Staff reveals stories behind tattoos
November 11, 2021
Semi-colons, Mandarin symbols, bible verses are popular tattoos that have historically been unwelcome in most workplaces. At DGN, teachers and even students are breaking the tattoo stigma by wearing their visible tattoos. As we make our way into 2022, more teachers are tatted without an issue of professionalism. Here's a look into tattoos worn by staff. 
Principle Courtney DeMent
Courtney DeMent has four small tattoos. One on her foot is three C's looped together to represent her son and another is "Love More" tattooed on her back. 
"As a person and a principal, I believe that tattoos are a way to express who you are and I would never tell anyone not to do that," said DeMent. 
Courtney D. White
PE Department Chair, Mr. Courtney D. White got his second tattoo in 2019 after the birth of his second son at Skin Abrasions in Oak Park. It's his first visible one, a circle of the four most important dates in his life; the birthdays of his wife, sons, and his anniversary date. Working with coming-of-age teenagers, White often sees his students making these permanent decisions. 
"It seems like tattoos are the one thing kids want to get when they turn 18. Most former students that come back to visit have gotten at least one within the year they graduated, which is completely fine," White said.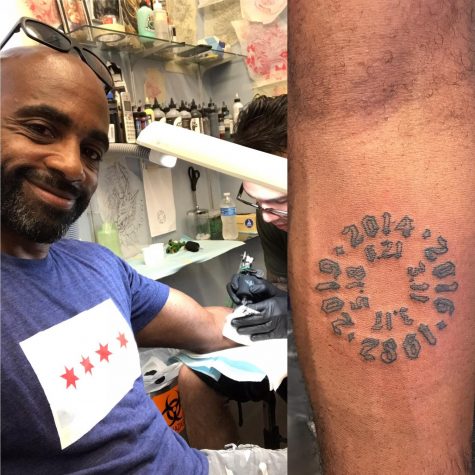 Natalie Jenkins
Math teacher Natalie Jenkins has mountain peaks tattooed on the inside of her finger. She got it done five years ago with English teacher Jeanette Lawler who, as a more seasoned tattoo canvas, encouraged Jenkins to try something new. The tattoo symbolizes a favorite book of her's, Wild, and Jenkins' relationship with her mother.

"Before getting it I was worried that it would affect potential jobs. Now I know teachers who want to get full sleeves. It's not an issue of professionalism," Jenkins said.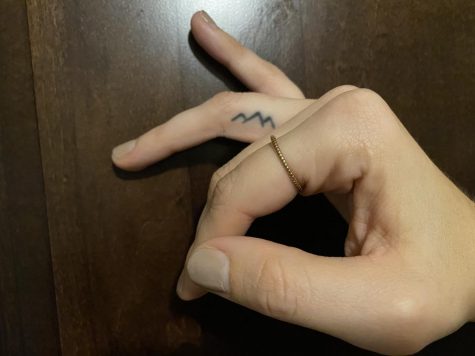 Jeanette Lawler
"This is slightly embarrassing," English teacher Jeanette Lawler said. 
Her tattoo is of Smaug from The Hobbit, her favorite book which she got on her 27th birthday. To follow this trend, she wants a tattoo to represent "The Catcher in the Rye", another special book to her, along with other potential tattoo ideas.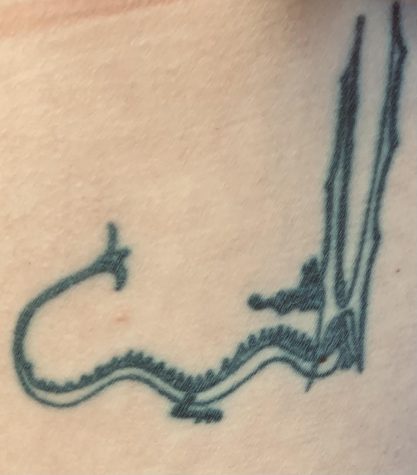 Lucia Torres
Math teacher Lucia Torres' first tattoo was of seven birds on the back of her shoulder. She was 20 years old and didn't give it much thought or research. It was an experience that left her not getting tattooed again for four years. However in 2019 Vargas did research on an artist she liked and found Funky Rooster Tattoo and Art Studio with Paige. Being a shy person and making a major commitment, she felt most comfortable here. Vargas got a floral tattoo on the back of her arm with her now husband, who is also a teacher with tattoos.
"It reminds me that flowers are beautiful just like me. I always joke that I want to become a garden," Vargas said.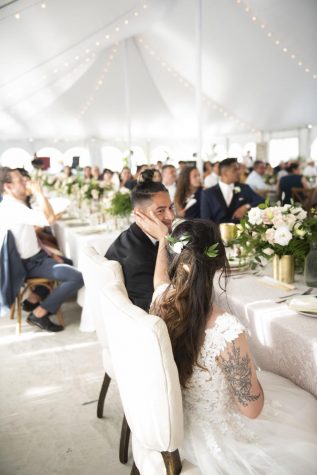 Britni Mitchell
English teacher Britni Mitchell has five tattoos, her most visible one being her seven year old daughter's name and birthday on her forearm. This is Mitchell's latest and most meaningful tattoo, although her first two don't carry the same significance. 
"I definitely regret my first two because they've aged poorly and I was seventeen when I made those choices," Mitchell said. "I could have chosen better designs, and I believe adult Ms. Mitchell would have better tattoo taste than teenage Britni." 
Mitchell's parents didn't know about the first two when she was seventeen but eventually caught a glimpse while she was curling her hair. Predictably, Mitchell was grounded for a long time. 
"It didn't deter me though," Mitchell said.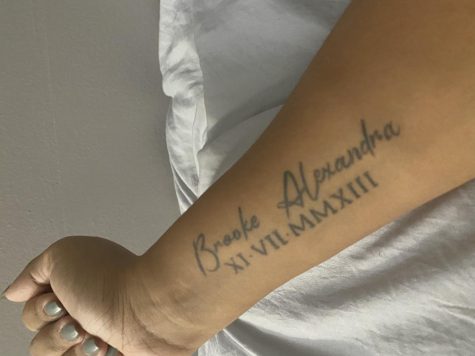 Whether it be the name of a loved one or a meaningful symbol, there are many different ways for professional adults to express themselves through body art. At DGN, teachers can be seen with tattoos that tell a story about their families or defining interests. 
"Tattoos often have a lot of meaning for people, and it's not for me to judge that," DeMent said.