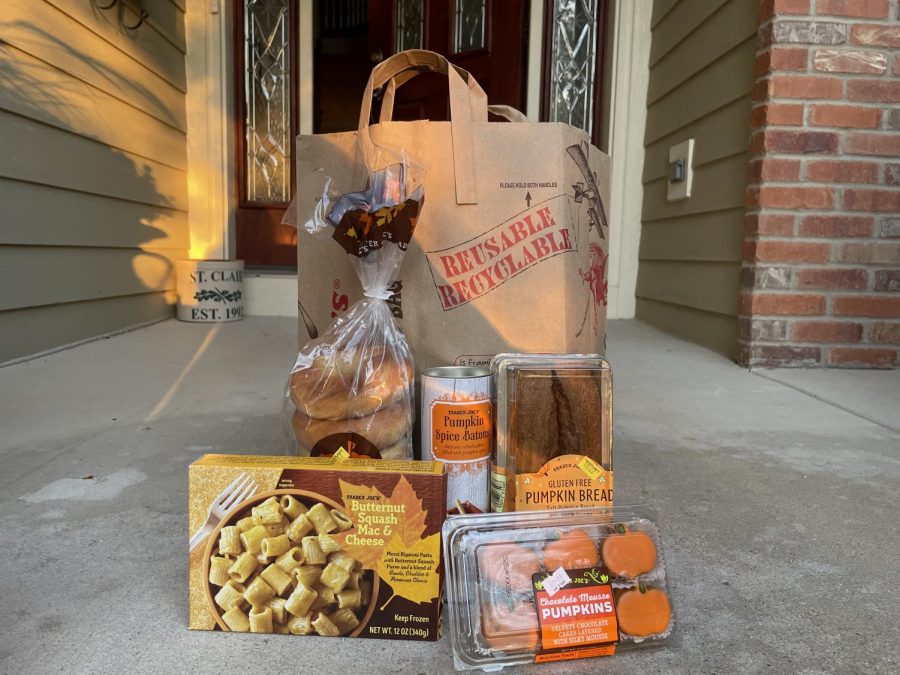 Trader Joe's Fall food review
November 11, 2021
As temperatures begin to drop and you're looking for a tasty treat to get you in the Fall spirit, you can look no further than the Trader Joe's seasonal aisles. With everything from apple cider to pumpkin ice cream, everyone can find something that they'll enjoy this autumn season. As a self-proclaimed Trader Joe's connoisseur, I've reviewed some of the store's top picks for this season's treats. 
Pumpkin Spice Batons: This fall creation of the classic chocolate-hazelnut Pirouette cookies is possibly even better than the original. With a pumpkin flavored cookie on the outside and a vanilla filling on the inside, these Pumpkin Spice Batons are the perfect accompaniment to a hot coffee or apple cider. The one downside of these is the lack of spice in the pumpkin spice. Some more of the classic pumpkin spice flavor would have made these the perfect fall treat. 8/10. 
Pumpkin Bagels: These Pumpkin Pagels are most likely one of my favorite parts of Autumn. With a strong pumpkin scent and a not too overpowering flavor, they are a fantastic breakfast option for a chilly morning before school. Whether you choose to toast it or not, (I definitely recommend toasted), it's hard to go wrong with a classic pumpkin baked good like these. I would have to rate these a 9/10.
Chocolate Mousse Pumpkins: Although I did enjoy this dessert, I was misled by the title. These Chocolate Mousse Pumpkins only refer to the shape of these sweet treats, not the flavor. Inside an orange frosted pumpkin shape lies a chocolate mousse and cake combination. The size makes it not too overpowering of a desert but I would have enjoyed some type of fall flavor incorporated into this chocolate sweet. I give these mini pumpkins a 6/10. 
Butternut Squash Mac and Cheese: This Butternut Squash Mac and Cheese is definitely up there on the top Trader Joe's frozen foods items. Although frozen food can easily be gross, Trader Joe's did a great job with this item. The dish had a really tasty, nutty flavor, and the pasta was cooked surprisingly well for being straight out of the freezer section. I would recommend this item for anyone who needs a quick lunch or dinner on the go but still wants to enjoy their meal. I would rate it an 8/10. 
Apple Cider: Once again, a classic fall staple. This drink is hard to mess up so it makes sense that the Trader Joe's Spiced Apple Cider meets expectations. Nothing too crazy here but it's a crisp, rich, drink that offers a taste of fall in every sip. My one complaint is that it's hard to drink a whole glass in one sitting because of the richness of the beverage. With only a few sips you will definitely be in the fall spirit, I'd rate this drink a 7/10. 
Gluten Free Pumpkin Bread: Before you even open up the package, the sweet smell of pumpkin hits you with this baked good. This Gluten Free Pumpkin Bread almost smells home-made and has a great pumpkin flavor to it. Possibly due to the fact of this being gluten free, something was a little bit off with the texture. It was sort of dense and just had a weird feeling overall, but the flavor was decent. I wouldn't say I would purchase this item again and I'd have to give it a 5/10.