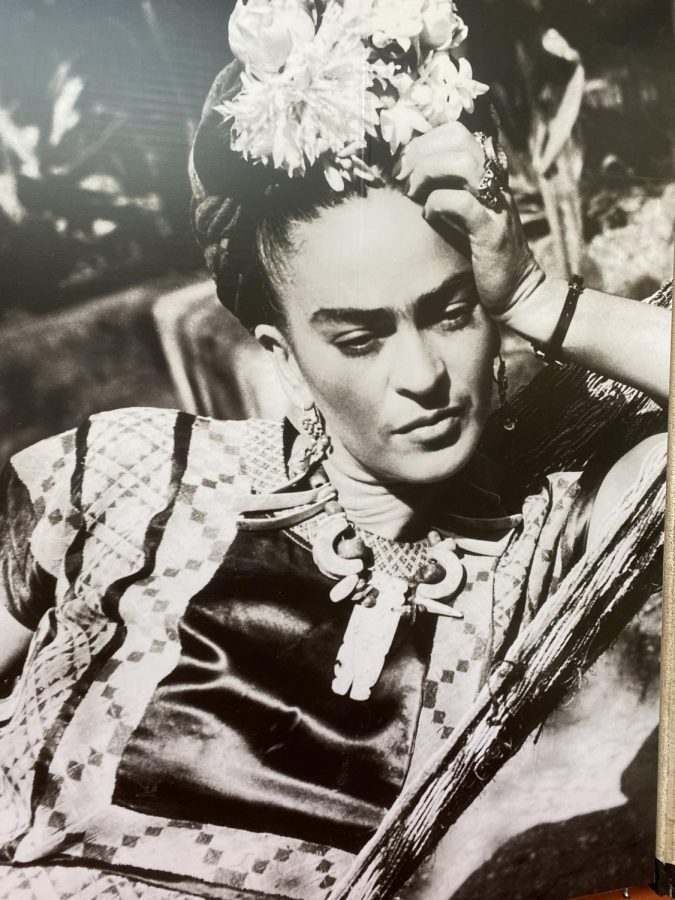 Review: Frida Kahlo Timeless Exhibit
October 20, 2021
My mom and I had wandered apart when I noticed the boy standing next to me. He was in khakis, a plain thin white t-shirt, a rope necklace, and brown sandals. What I immediately noticed was his raggedy brown leather notebook that he held with the spine rolled back. He was at the Frida Kahlo exhibit, with his dad, taking notes. I thought, "either this guy just wants to look really cool, or he is really cool." Of course the spirit of Frida Khalo had brought me the perfect man. 
When I heard there would be a Frida Kahlo exhibit at the College of Dupage, the Mexican in me screamed. Frida Kahlo was a name I had always heard mentioned among my mom's side of the family. Once I got older and learned about Kahlo's impact, I was inspired for good. 
Frida Kahlo was a famous painter from Mexico City, Mexico who lived in the early 1900s. Anytime Kahlo is depicted, she is wearing flowers in her hair, colorful beaded jewelry, and floral patterns. However, she remained unpredictable. Kahlo met her equally peculiar artist husband, Diego Rivera through their political activism. Although she was married, Kahlo was a fluid individualist who had flings with women as she traveled. Kahlo's vibrant self-expression both through her personal flair and original art are what make her a feminist icon. Not to mention the unapologetic famous unibrow. 
Unlike the Immersive Van Gogh Exhibit, Frida Kahlo Timeless was more like your traditional art exhibit. Surrounding the perimeter of the main space was a timeline of Kahlo's existence. From life to death, you could read about each era. Through the struggles after her car accident and the brawls with her spouse Diego Rivera, Kahlo was beautifully crazed. I saw this through the powerful quotes and pictures posted on the walls; ones I had never seen before.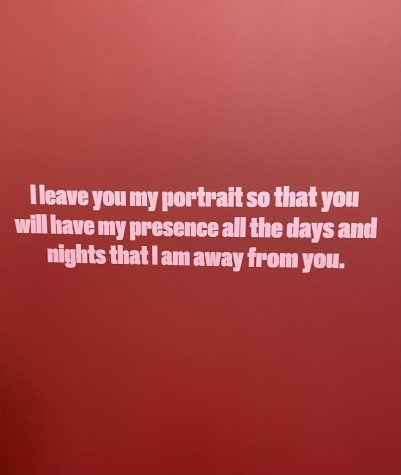 There was so much to look at, but the centerpiece of the room was a model of a dress that Kahlo traditionally wore. The vibrant patchwork radiated culture and captivated Kahlo's style. One of my favorite parts was the quotes that were largely printed on the red walls. They held the power that made you read them back a few times and ponder their meaning. And then, as everyone did among the beauty of this exhibit, I pulled out my phone to capture it forever.
I thought I knew Frida Kahlo before this exhibit both historically and psychologically, but this experience brought me further than surface-level knowledge. The colors and photos were cool to see, but what I appreciated most was the complete authenticity. Kahlo's unashamed attitude and proud vulnerability were broadcasted through each pose and serious gaze photographed. I feel this brought me closer to my culture and admiration for Kahlo. Taking on the responsibility of exhibiting someone so powerful and original is difficult, but this show lived up to the daring woman that is Frida Kahlo. 
Above all, what I most appreciated was Kahlo's real-life paintings. I stared at all twenty-six paintings for minutes at a time, unable to fathom that they were the real things just two feet before me. My gaze held strong, and as I do in moments like these, I felt the rush of tears. 
The purpose of this exhibit was to show how truly timeless Frida Kahlo is. Although this was an art exhibit, it was just as much an exhibition of Kahlo's feminism, free spirit, and Mexican culture. Among times of change, her nonconforming lifestyle can be educational and appreciated now more than ever. This project was for the dozens of colorfully dressed old ladies who walked the exhibit floors, but also for the generations that hold our society's future in their palms. As a socially revolutionary figure, Frida Kahlo is today, tomorrow, and everything that comes after.