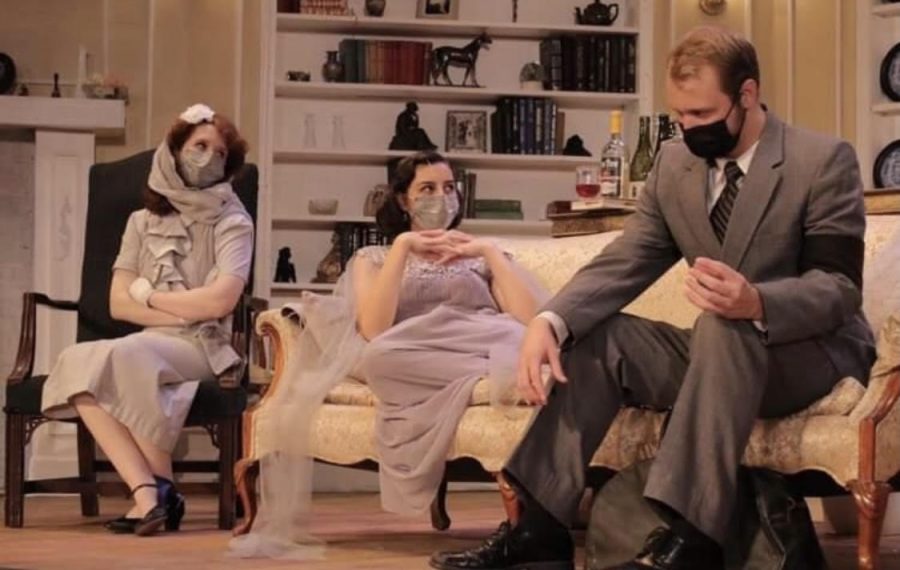 Review: Blithe Spirit
October 15, 2021
DGN fine arts put out their fall play, Blithe Spirit, this weekend. The play, written by Noel Coward, takes place in 1941. The cast and crew did a great job bringing the script to life. The story proved itself timeless as it still captures the emotions of it's audience, even 80 years later.
The plot follows a widow Charles Condomine (Andrew Marron) and his second wife Ruth Condomine (Lillie Cawthrone). They invite their friends George (Nathan Farrero) and Violet Bradman (Morgan Lally) to a seance on their home conducted by Madame Arcati (Emma Nicklaus). After the seance the spirit of Charle's first wife Elvira, (Eleanor Harris), comes to the Condomine's home and starts interacting with Charles as Ruth thinks her husband is going mad.
From the acting to the costumes, everything in this play was on point. The lighting felt like looking into a snowglobe. The whole crew worked to make sure this play was as great. It was a simple yet beautiful setting so it allowed the audience to imagine they were there in the room while not taking away from the characters and there dialogues. The writing was fantastic as well as it made it feel like we are there in the room. 
However, for the entirety of the play, the only setting is the living room of the Comdomine's home. It would have been nice to have had a change of scenery but this is completely understandable factoring in that this is after all a high school performance.
I love the decision to put on this play. It's been a long past few months for a lot of people and it felt good to sit back and have a laugh. From funny characters to the endless banter between the couple, the irony of watching well mannered people behave poorly was truly a refreshing experience. There was rarely a dull moment in the play, the plot was suspenseful, funny and coherent.
Even walking into a high school performance, we were not expecting to experience flawless acting, a beautiful set and effects that looked and sounded as real as the screen you're reading this on. Blithe Spirit as a play was fun to watch, watching it really is like riding a roller coaster of emotions. The cast and crew did an outstanding job at bringing the script to life.