Post-game Los tradition escalates with return of football
October 13, 2021
"Was this a big rivalry game?" the woman yelled at me over the pounding bass and mosh pit of students dancing to Love Sosa. It was 10:30 p.m. on a Friday night, as we both stood in line waiting for our burritos at the local Los Burritos Tapatitos. The Trojans had just defeated Willowbrook and fans swarmed to their favorite post-game spot.
"Oh no, this is just a normal game day win for us," I screamed back as I motioned over at the hundred or so students that occupied the taco shop. 
Otherwise referred to as "Los" the Downers Grove location opened in 2002; since then, DGN students have flooded the Mexican restaurant with energy and an appetite to celebrate a post-game win. Almost 20 years of students have lived through this tradition and the boss, Alfredo Ramirez, has witnessed it all.
"I know a lot of [customers] who when I started the business they would come in for one taco with chips and salsa. Now, they come in with their family; they got married and have kids and they continue to support me and support the business," Ramirez said. "I think it's the same way with teenagers, they'll start making more money as they grow up and start buying more food."
Ramirez often refers to DGN students as the "customers of the future." To the workers, they are not seen as rowdy teenagers, but as potential life-long customers.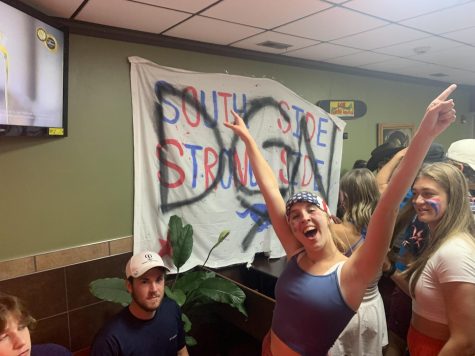 DGN alumni Jackie Krizek graduated in 2008 and remains a loyal Los customer to this day. When she was in high school, her Los experience looked a bit different than the present day. 
"Everyone would go there because they were open late. It was a pre or post-party snack option …no one really hung out there too long," Krizek said. 
Now, students stay for an extended period of time singing, eating, and dancing on countertops.
"It basically turns into a free-for-all mosh pit, especially once the players get there, that's when the party really starts and it's a good way to celebrate with the student body that chooses to attend," senior Huck Fields said.
After the win against Willowbrook, Fields bought $80 worth of tacos for the players as a symbol of his appreciation for football's 2-0 start. 
 "I thought the boys played a good game and they deserved some free grub. I saw that it would be a good opportunity as a peace offering to the Los workers considering we were being pretty rowdy inside the restaurant," Fields said. 
Post-game tacos and burritos are an anticipated feature of Friday nights. N-Zone leader Sam Bowerman sees it as a way to bring the fans and the team together one last time before their night ends.
"Because there is no underground tunnel celebration [with the drumline] after wins this year due to Covid guidelines, I think this makes up for it," Bowerman said. 
 The Los tradition was halted during last football season as COVID-19 protocols were still in effect, not allowing indoor dining in Dupage County restaurants. But as the 2021 season continues, "rowdy" seems like a fitting description for this post-game gathering.
"One time they brought the speaker and put it inside and I can't work because I need to talk to the customers," Ramirez said. "Sometimes they make noise but I understand because they are the customers of the future. Everyone is a neighbor, they are welcome any time."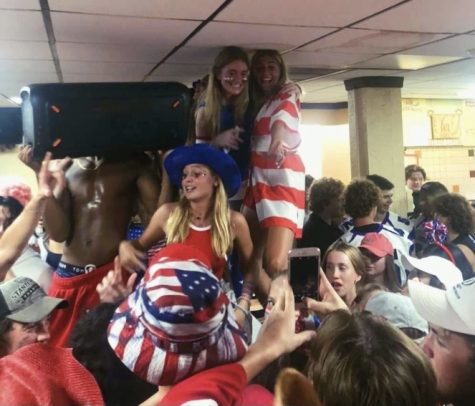 An Instagram account by the name of "Sloche" also paid attention to the unique DGN tradition. Known by his 53,400 followers, he highlights high school sports and athletes around Illinois. Sloche already posted about the "taco shop raids" twice, gaining a combined total of 7,742 likes. He captioned a video of Bowerman crowd surfing through the restaurant saying, "post rivalry dub at the taco shop never gets old."
Sloche also posted about DGN students at Los two years ago, bringing attention to the tradition to his thousands of followers. Now that these memories are publicized on social media, there is more hype and excitement for the underclassman to continue this "rite of passage," as Fields calls it. 
The players, fans, and staff all enjoy the energy the students bring to the taco shop on Friday nights. Staff member Marco Flores wants to remind students that the next time they come to the restaurant, they should "bring their friends."