Asay (12) commits to University of Iowa for swim
September 7, 2021
"I like to say that I didn't choose the University of Iowa, but rather God chose the university for me," senior Olivia Asay said.
Ten years of hard work and a dream of going D1 is finally becoming a reality for Asay, as she plans to swim at Iowa for her collegiate career. Though, her situation is unique in that last year for the 2020-2021 season the girls' and boys' swim team was shut down completely. 
"Last year, Iowa cut their swim program, which not only was devastating for the current team, but for anyone who dreamed of swimming for the Hawkeyes, including myself," Asay said. "By grace from above they ended up reinstating the women's program, which I was very excited to hear." 
For Asay, her faith is inextricably tied to her athletic ability to perform. 
"I praise God no matter what happens in my performance because I know that He has a perfect plan for my life," Asay said. "Due to the pandemic I didn't know when I would be able to train, but God answered my prayers and I was blessed with recruiting calls, and I received the news that we would have a high school season and that's when meets would start."
She is also excited to be on the team with her future coach Nathan Mundt. She had many conversations with him before receiving a scholarship to continue swimming at Iowa making it official July 16.
Her current DGN coach Jennifer Heyer thinks that Asay will be a great addition to Iowa, helping rebuild their program.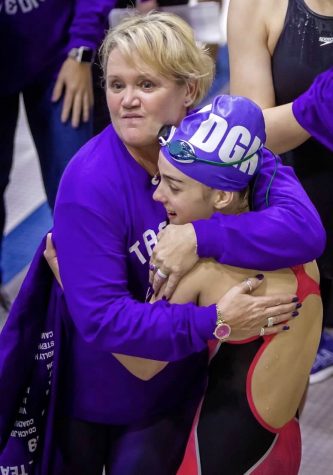 "I think the exciting thing for her is going to be if any girl can go in there and fix that team it is going to be her. And I mean that," Heyer said. 
Along with Heyer, Asay's teammate Carly Cummings can see how much Asay is committed to the sport and uses her positive energy to get better. 
"The amount of steps she takes outside of practices really sets her training apart from everyone else. Every practice she comes in and is ready to focus and put her best effort into each set. Literally every day," Cummings said. 
Asay swims at DGN during the season and then swims at Hinsdale swim club in the off season. She specializes in the stroke butterfly and swims the IM (individual medley). Morning practices are a weekly occurrence for the varsity swimmers along with afternoon practices on the same day. For Asay's mom, Cynthia, balancing Olivia's schedule along with her other children is sometimes challenging, but mostly fun. 
"Juggling the schedules of my three children makes my heart happy, every day is different based on a.m. workouts," Cynthia Asay said. "I am very thankful and blessed to be able to stay home because in a blink of an eye they'll be headed off to college."
Even with all the practices and hard workouts, Asay doesn't complain. This year she is also a team captain. 
"She's clearly an excellent leader. Her intensity is noted by everybody. She sets a great example for everybody," Heyer said. "Even through COVID and everything else she never lost sight of her goals. I'm telling you she's a fighter."