Girls' Track and Field makes school history, breaking multiple records
June 23, 2021
Regardless of a shortened season, contact tracing, weather delays, and extreme heat, the girls' track and field team managed to shatter records and make school history, cementing themselves as the greatest girls' track team DGN has ever seen. 
It was the first time that the team won both conference and sectional titles in the same year. They scored 32 points, the highest amount of points they've ever achieved at the state meet, placing them sixth.
 The 4×800 meter relay of Karlyn Harkness, Emma Van de wetering, Allison Van de wetering and Melissa Jachim placed 3rd, with all four members having no experience at the state level before. The 4×100 meter relay team was the first 4×100 team to be all-state (top nine) in school history. Consisting of Abby Streff, Mia Bowers, Elle Kowalski, and Kenna Cinotte, they ran a time of 48.84 seconds. The team had notable performances by Erin Beatty, Bowers, and Cinotte, all placing in their individual events.
The coaches and athletes attribute their success to the depth of the team. 
"Usually schools have a good thrower here and sprinter there or just good distance. We had it all: high jump, long jump, triple jump, distance, throws, sprints, pole vault and depth in each," Coach Gabriel Harris said. 
Runners
The state meet was held June 12 at Eastern Illinois in Champaign. The 90 degree weather was not ideal to run in yet the team persevered.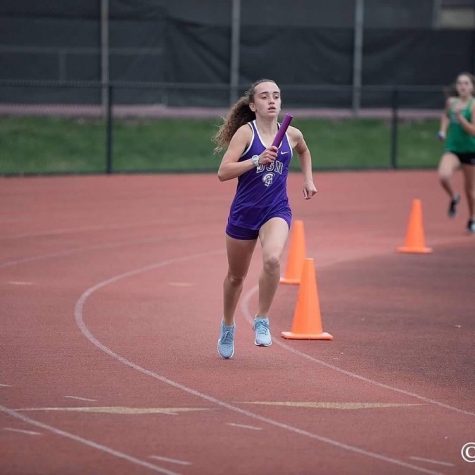 "The girls really stepped up and adapted to a shortened time schedule, weather delays, and extreme heat. This group's resilience has been one of their strongest traits," head coach Matthew Maletich said. "The team met and exceeded expectations. We knew this team had a number of very established and experienced girls, so expectations were high."
Seeded first going into the state meet, the 4×800 meter relay placed third. This was the Van de Wetering sisters first year competing track, exceeding the coaches expectations.
At state, incoming sophomore Karly Harkness was the lead leg of the 4×800 meter relay and had to set a good pace for the rest of the team members.
"Something that surprised me at the state meet was definitely how physical the race was. In the first 200 meters, I got pushed to the back of the pack, and really had to fight my way up to the front which was pretty tough," Harkness said.
Even so, she believes that her performance at state was the best she has done all year. 
"This was probably because of how much adrenaline I had going into the race. My mindset when competing was just trying to stay calm and not panic if I found myself towards the back of the pack, and to just keep getting as close to the lead as I could," Harkness said. 
Jumpers
Graduated seniors and best friends Mia Bowers and Kenna Cinotte had outstanding performances in their respective jumping events.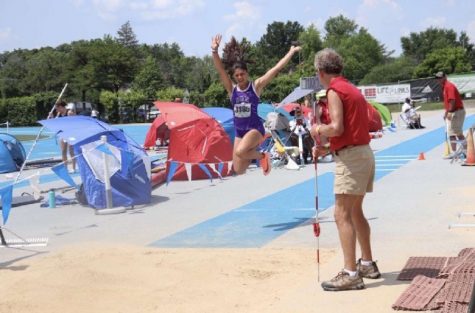 Cinotte was the first athlete from DGN to get three all-state titles in a state meet and the first DGN athlete to place in both long and triple in a state meet. She competed and scored third place in triple jump, sixth place in long jump, and contributed to the ninth place in the 4×100 meter dash. She qualified to compete in the 100m dash, but ended up scratching to compete in the 4×200 relay because one of her teammates was injured.
 Her mentality was different this year compared to years in the past, focusing on specific goals. 
"I went into the season with a better mindset, knowing what I want to accomplish rather than just going out there and trying to improve, where I was actually focused on certain things in my training and outside of training," Cinotte said.  
Throughout the season Bowers has improved greatly, breaking the outdoor pole vault record twice in one meet.
"This year the team focused on staying positive, healthy, and driven throughout all the ups and downs of the season. The reason why we did so well this year was because we all focused on doing our part in our events, benefiting the overall team score," Bowers said. 
Bowers also qualified for state in the 100m hurdles, 300m hurdles, and the 4×100 meter relay. Her pole vaulting coach, Gabriel Harris, was delighted to have the opportunity to work with an athlete of Bowers' capability. 
"I could write an essay on what was special about coaching Mia. [She] has all the qualities and intangibles you look for as a senior leader," Harris said. "In pole vault you need speed, flexibility, upper body power and the ability to know how to contort your body in air space upside down. It really is one of the hardest events, that is why so few athletes stick with it."
Throwers 
Graduated senior Erin Beatty and incoming junior Maggie Fleming were the two throwers competing at the state level for DGN this year. Beatty competed in both shot put and discus events while Fleming threw shot put. 
Beatty made it to the state meet as a sophomore in 2019 in the discus event so her goal going into this track season was to qualify for both events and hopefully place as well. 
"I didn't know what shot put was like but I knew the routine of the meet. I was pretty calm because this wasn't my first time. I was stressed that I wouldn't perform at my best for my last meet but it ended up turning out fine," Beatty said.
Her performance turned out to be more than "fine" as she finished fourth in discus with her longest throw reaching 37.48 meters. 
Coming into the state meet, throwing coach Thomas Saam saw great potential in both Beatty and Fleming.
"Both Erin and Maggie are incredibly driven to be successful. Erin likes to have a lot of fun in practice, but she is a great competitor in a meet situation," Saam said. "Maggie is one of the most coach-able athletes that I have ever worked with at DGN. In just one full season, for Maggie to win a sectional championship and an IHSA state meet berth is a remarkable achievement."  
Fleming placed 16th in shot put with a throw of 10.68 meters, while Beatty came in at 19th with her longest throw of 10.43 meters. 
Beatty threw in the first flight of discus throwers and had to wait through a rain delay and the second flight to find out her place. Even after the delays, it was worth it. 
"The excitement I felt having my teammate Maggie with me, and Coach Saam standing next to me as they read off the places, is something I will never forget," Beatty said. 
Although she does not plan on throwing in college, the throwing program still made a large impact on her future. 
"I've learned a lot from this program; the girls I throw with have become a family to me. One of my goals [moving forward] would probably be to be as supportive as my coaches and take the friendship, kindness, and humor from my teammates with me," Beatty said. 
The future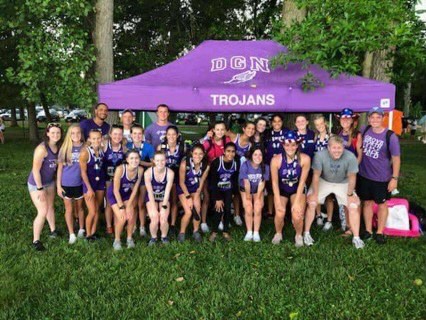 Even with many key 2021 seniors moving on from their track careers at DGN, the future seems to be bright for the team. 
Contributing in the 4×100 and 4×200 meter relays at state, incoming senior Elle Kowalski shocked the coaches with her unexpected performances this year. 
"Elle Kowalski's entire season has been an amazing surprise, I have never seen someone improve like she has in such a short period of time," Maletich said. 
Across the board, the coaches are excited to see what the girls can do in 2022.
"Next year looks bright as we have some big shoes to fill. I am confident that they will step up and represent the Trojan tradition proudly. I look forward to another big season next year and to keep an eye on the outgoing seniors at the college level." Harris said.