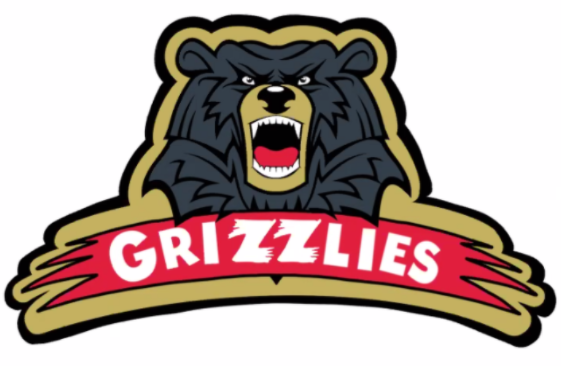 Meet the Burlington West Grizzlies: A team for DGN female hockey players
April 30, 2021
After eight years of Hockey players at DGN competing with the predominantly male DuPage Stars Hockey Club, female athletes are being presented with the opportunity to play for a new high school girls' hockey team: The Burlington West Grizzlies.
This team meshes competitors from DGN, DGS, Hinsdale Central, Hinsdale South, LT, and Willowbrook. The Burlington train line that runs through these communities is what drew the board of western suburban parents to create the team name. 
Past attempts of a girls' hockey team 
Starting a girls-only hockey program is not a new idea to DGN and surrounding schools. There have been a couple of past instances where there were DGN female hockey players playing in similar circumstances that the Grizzlies will be.  
Attending DGN for her freshman and sophomore year, Savannah Harmon, a defenseman on the United States national ice hockey team, and other hockey-invested players started up the LT Girls Hockey Club. While the team only was in action for a single season in the 2011-2012 school year, they had a successful run with a 21 game winning streak and a record of 22-4-2. 
"It was so much fun. Some girls had just started playing and it was such a great experience," Harmon said. "I was always sad that the girls in our high school did not have a team so that one year I was there and we did have one, it was amazing. It is exciting to hear that we are getting one now and it is growing."
In the 2019-2020 school year, Regina Summers, whose daughter plays hockey and attends Hinsdale Central, started to piece a team together because of the lack of girls' high school hockey teams in the DuPage area. 
The turnout of athletes was not where they expected it to be; there was no goalie, so the plans never followed through. There was also a widespread geographically of schools that would have participated. Greg Whalen, father of Hinsdale hockey players Savannah and Trinity, picked things back up last semester with hopes of trying to create a solid team. 
The Metro-Girls' Hockey League 
The Grizzlies will be competing in the Metro-Girls' Hockey League, a group of currently 15 female teams from across the Chicagoland area- ran under the AHAI (Amateur Hockey Association Illinois). The teams compete in two cups: Scholastic and Founders.
 The teams that the Grizzlies will compete against are Barrington, District 211/214, Evanston, Fenwick-OPRF, Glenbrook, Latin Orange, Latin Blue, Lake Forest Academy, Lake Forest High School, Loyola, Maine, Naper Valley, New Trier, Upper Fox Valley, and Warren. 
Fenwick has held the title of Scholastic league conference champions, and Lake Forest for the Founders Cup, since 2019 because of the loss of a 2020 season. 
In the midst of making a roster 
The turnout this time around was larger than last year's. 
"We have 23 girls, as of our last survey, that have shown they are interested and likely committed to the program," Whalen said. 
Of those numbers, 18 girls are already in high school and five are coming in with the class of 2025. The team consists of players from the Glenview Stars, Lincoln Park Panthers, Chicago Bruins, Chicago Hawks, Sabres, St. Jude's Knights, Elmhurst Chiefs, Elmhurst YMCA, Team Illinois, Mission, and the Chicago Young Americans.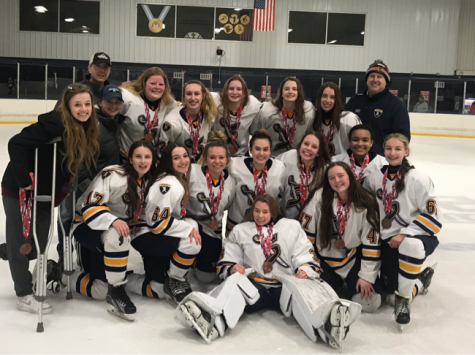 The team's inaugural season is looking to have around 43 percent of the players being freshman, 21 are sophomores, and eight percent juniors. 
Current DGS junior Elise D'Aquila has expressed interest in joining the Grizzlies. 
"Hearing that we have committed players is really exciting. I am not for sure certain, but I would definitely double roaster if I could next year," D'Aquila said. "If I could play on both my Sabres team as well as this one I think it would be awesome." 
Sophomore Sophie Richert was considering playing for the Grizzlies but has decided against it. 
"I have decided I do not want to participate in the Grizzlies next year because I feel as if girls' high school hockey won't have much competition. There most likely won't be multiple teams for Grizzlies because there won't be enough girls and I want to play somewhere I will be challenged," Richert said. "If I continue to play with the Sabres, I feel like I will have more opportunities to grow as a hockey player because they offer a lot more than high school hockey does, and especially with this because it's all new." 
Whalen believes that if the structure and approach of the team are done correctly, the program will become competitive and long-lasting. 
"AHAI does not want one and out clubs anymore, so if we were not able to show that we were sustainable or we turned around and we had a whole group of seniors, the likelihood of them saying that we were good to go was probably not going to happen," Whalen said. 
With the numbers they currently have, the club will run at a singular team level. As they expand, they look to create JV and Varsity levels. 
The Grizzlies' board has not made any consecutive decisions as to what level they will enter in for their inaugural season but is leaning towards JV to get their feet wet in the league. Ultimately, the coaching staff will make judgments of which level will suit the players. 
Jersey Design
Hockey is a sport of rivalry. In order to make sure that teammates were able to stay true to their personal school's spirit, Whalen and the team's board wanted to keep things neutral by not taking a certain school's colors or name. 
The jersey's colors and team logo will reflect those of the Vegas Golden Knights; black gold and a hint of red.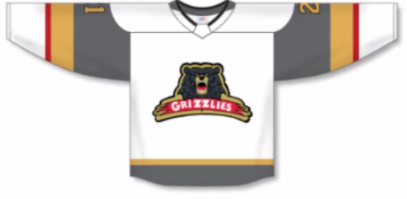 Finding a female head coach
Their search for coaches is still in its early stages. Ultimately, the team will have a head coach, two assistant coaches, and a goalie coach. Based on the player response in surveys sent, the girls gave more interest in having an outside paid coach over a parent coach. 
There was discussion among the team's board of reaching out to coaches from clubs around the area, but they want to keep association with the club teams separate from the high school league team.
One of their top priorities is manufacturing a female lead coaching staff. The gap between male and female hockey is something that this team is pushing to help mend. 
"Some of these girls have lived this, they have played hockey at AAA, tier one, tier two-level. They have moved up and they have found the way to play club level in college. We figured that if we can find a female hockey coach that played through high school, played through college, she could be a really good mentor to our girls as they are coming through the program," Whalen said. 
The Downers Grove community reflects on the creation of The Grizzlies
To treasurer of the Grizzlies' board of directors Scott Irvin, girls hockey in the DGN community is something that has been very allusive. So now that his daughter Tabitha Irvin is able to play in a high school league, he feels that this will push the equality of gender in the sport. 
"I think it will do a lot to bring girls' hockey into the spotlight and the players will be great ambassadors for the sport and for the club in their individual high schools," Irvin said. 
As a DuPage Stars player, Junior Isaac Hsu appreciates that girls have the option to be on a team where they can have a connection with their female teammates.
"It would give a lot of opportunities for girls who want to play hockey a chance to play," Hsu. 
The president of the DuPage Stars Bob Surette sees this as a special chance for girls' hockey to be able to play in a high school atmosphere. 
"My advice is to not be afraid to ask for help.  The hockey community is one of the most giving communities of which I have been a part, and it is a community that is always willing to help grow the game," Surrette said.