Badminton prepares for conference meet, reflect on abnormal season
March 18, 2021
In a meeting March 8, the IHSA decided to host state playoffs for a multitude of spring and summer sports including Girls' Badminton beginning March 25, with the state final commencing March 31.
This came as a pleasant surprise to head coach Anthony Calderone and his team who have played through an already shortened season due to the IHSA protocols. 
"Our season for sure has been impacted, the girls usually get in 30 to 40 matches a year because we will go to a lot of tournaments and quads. This year we will probably top out at 10," Calderone said. 
The pandemic had inflicted many irregularities onto the badminton season, affecting the duration of the season as well as how matches are played. 
"Some teams that we have played said they were not comfortable sharing birds during games. What would happen is that we both would have to bring a bird to the court, and just switch it when we switch servers," senior Jessica Spahn said. "Personally, that is really annoying because not only does it waste time, but also different birds have different weights and speeds, so constantly switching them makes it hard to get a feel for the bird and control of the game."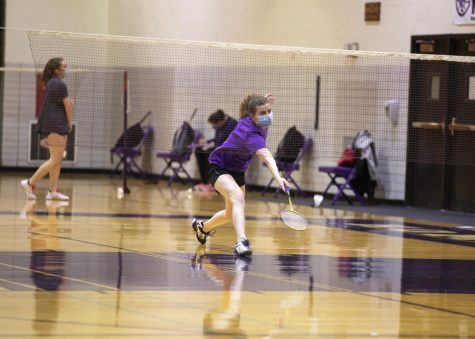 Outside of match play, the team faces another challenge in regards to transportation to and from meets.
"Many other teams at North during COVID-19 have been taking buses to their away meets. However with the way our team decided, we are expected to find our own means of transportation to [away] meets," junior Megan Heinz said. "This is disappointing seeing as the majority of bonding and team celebration happens on the bus before and after away meets."
Despite these disadvantages, the team has seen considerable growth and improvement throughout their shortened season. Sophomore Gabrielle Chen stands out as a notable player being the only underclassman on the varsity roster and slotted on North's first-ranked doubles team. She explains her improvement so far and the knowledge she's gained from her teammates.
"I would say that my role of being an underclassman on varsity is to learn. I have two years ahead of me while for other girls this is their last. Thus forth, apart from trying to win my matches, I am trying to gain as much experience and knowledge as I can," Chen said. 
As a whole, the team has had a few key successes including their 11-4 victory against Lyons Township, after losing to them earlier in the season 4-11. They also had a 15-0 sweep against conference rivals Glenbard West and OPRF.
"It's been a tough season and definitely a lot of work but I attribute the success [we're] having to Coach Calderone. Though this season has been extremely difficult on all of us, he has done his absolute best to make it feel like a normal season, and I am very thankful for his dedication and patience with all of us," Heinz said. 
As Calderone continues to prepare his team for a run at the State tournament, he acknowledges the limited exposure and experiences his athletes may have due to West Suburban Conference regulations. In their effort to prevent a potential outbreak, the WSC is one of the only conferences in the area prohibiting out-of-conference play for all sports. 
"I think the biggest thing that's hurt us is that the conference doesn't allow outside conference play. Fortunately, we are in a strong conference where they get to see good competition, but there are a lot of good players out there that I couldn't tell you where they are at or what they're doing," Calderon said.
The conference tournament is set to take place Saturday, March 20 with York being the team to beat. After that, the team hopes to make a notable run at State.