Humans of DGN: Maddy Dvorak, small business owner
January 28, 2021
Welding, twisting, and sculpting are just a few things sophomore Maddy Dvorak does in her free time. In November, she went one step further, turning this hobby into her own self-made small business, Silver Strand Jewelry. 
Her pieces are handcrafted, used with 925 silver. She sells the jewelry on Etsy and promotes them on Instagram. Dvorak learned the basics of jewelry last fall in the Jewelry and Metalwork class and even got some inspiration from her mom.
"My mom had done metalwork in college so when we were trying to learn how to make jewelry over Zoom and learning wire wrapping, she showed me her old wire that she had saved," Dvorak said. "I started to work with the old wire in my free time and picked it up instantly. I started making more earrings and then began experimenting with rings."
Dvorak handles all different kinds of her own designs, creating new ones as they come along. 
"Lots of my designs come straight from my head and from looking at old beads that I have laying around that I could use on earrings. Honestly, my favorite pieces of jewelry to make are rings, and I've created so many designs that I love," Dvorak said. 
In DGN's Jewelry and Metalwork Class, students learn the basics of jewelry like metal wrapping and setting stones. The class is unique because DGN is one of the few schools that teach it in DuPage County. Because of the pandemic, art teacher Robyn Bican had to adjust the way she taught to fit the at-home classes. 
Bican is happy that Dvorak is using what learned in class and turning it into something bigger.
"She learned different jewelry techniques that can be done from home and I think that influenced and inspired her to create a business out of it. She was taught the basics of wire wrapping and ran with it. Now she is making money off of doing something so fun and that she really enjoys doing," Bican said. 
Bican explains Dvorak's passion and what her work ethic was like in the classroom setting. 
"Maddy was always interested in jewelry and went above and beyond my expectations. I can remember her asking me if we could go into a breakout room so that she could show me all the cool stones she had and other supplies. It was really an exciting part of my day during the pandemic," Bican said. 
Dvorak's inspiration for her business started when her friends complimented her work. 
"I showed some of my friends the jewelry that I had made and they told me that they'd pay me to make a pair of earrings or a ring for them. It kinda got to the point where I figured that I actually could do something with what I had started," Dvorak said. 
Grace Butler, Wheaton Warrenville South senior, coworker, and friend of Dvorak enjoys Dvorak's newly added accessories, especially her Silver Strand Chain earring. 
"I love them because they are very simple and match with a lot of outfits. The Silver Strand Chain earrings are my favorite and are very trendy to my friends and I," Butler said. "I love the fact of how original Maddy is and makes what she wants too."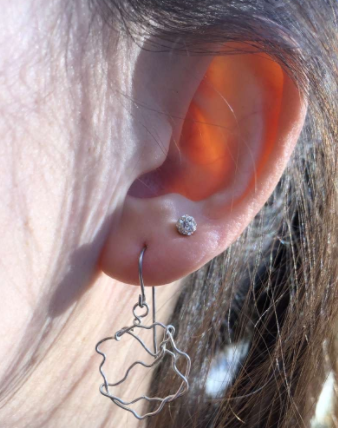 Along with Butler, senior Erin Beatty has a few pieces from Silver Stand Jewelry and admires the quality. She has even helped model some earrings for Dvorak. 
"The quality of the jewelry is very nice—I have sensitive ears, and the material she used gave me no trouble. I have received some pairs from helping her out; for instance, I modeled the earrings on my own ears for pictures for her account," Beatty said.
As of December, Dvorak started selling her jewelry at Skin Gallery Tattooing & Body Piercing located on Ogden Ave. Kameko Simpson is a Body Piercer & Jewelry Sales Manager at Skin Gallery. The two first met when Dvorak got her ears pierced for the first time.  
"I went to Kameko again [December 1] and got some more piercings on my ears," Dvorak said. "While I was there, I was wearing one of the designs that I sell in my store, and Kameko complimented it, so I explained to her my business and that's when she told me about the table at the front of the store." 
At Skin Gallery, they showcase a stand in the front of the store promoting small businesses. Simpson explains their goal as a store. 
"As the Shop continues to grow and evolve, one of our goals is to connect with and support other small makers & businesses," Simpson explains. "Maddy is a talented and innovative artist, her pieces are chic, whimsical, balanced and definitely reflect her keen eye for design."
Simpson is happy to see what comes next for Dvorak. 
"I'm so excited to watch her continue to grow her craft and her business, and to be able to use our little platform to share her work with the community," Simpson said.