Orchesis dance company transitions to virtual rehearsals
December 31, 2020
"I was worried about not seeing my teammates and not being able to learn the dances as well," junior Grace Damico said. "Dancing remotely is more difficult than dancing in person."
A member of DGN's Orchesis dance company, Damico has felt the challenges of participating in the company's remote rehearsals while discovering new methods to continue her creative outlet.
Due to COVID-19 concerns and health precautions, the Orchesis dance company had to switch from in-person rehearsals to completely online, while also discovering new methods of continuing their creative outlet through a virtual setting.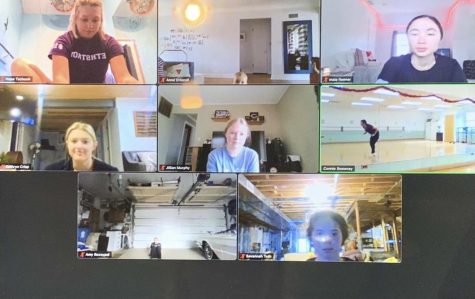 "We try to do a lot of team bonding so we plan many events in order for us to do so like parties and get together. It is a great way to come together as a team," senior and director Hope Tschosik said. "We communicate a lot of information to the rest of our team when necessary and when given new information that we are given.
Auditions, which would have taken place in-person accompanied by the entire returning dance company, were altered to match COVID-19 precautions. Dancers were instructed to film their auditions and submit them on platforms such as Zoom and Flipgrid.
"You had to learn the dance on your own, but you had the video to slow it down. We asked the prospective dancers to perform 3 skills. It's a little different compared to the past because you were auditioning completely by yourself but they had the benefit of submitting their best attempt," Orchesis Dance Company sponsor Anne Driscoll said. "In the future, we might borrow from a virtual auditions structure because it worked so well."
Weekly rehearsals are held over Zoom, where the company members meet with the team to learn choreography. Sophomore and director Justin Aldea has seen an improvement in productivity and effectiveness of rehearsals over Zoom.
"I've seen dancers express themselves through dance, and productivity has actually skyrocketed with the remote setting. We typically would have to teach dances going into January, but this year we nailed each of them before winter break," Aldea said. "Dance is a huge passion of mine, and being able to teach and guide a group of dancers even in a remote setting is one of the greatest feelings ever. I try to keep people positive by just reminding them of how proud I am of them and the work they put in."
Although the company has continued to meet with each other over a virtual setting, members have had difficulties bonding with the team due to a lack of in-person interactions. 
"The practices can leave me feeling really drained sometimes because having that temporary connection is great but for it to be cut off in an instant is really jarring," senior Bella Zamora said. "It's also a lot harder to form camaraderie between all of us who haven't gotten to know each other as well."
Tschosik has noticed the difficulty in connecting with the group and has continued to bring positivity to the company.
"I have tried to come to this as the most positive attitude and just try to make the best of everything. Even though it has not been exactly picturing my fourth and final year on Orchesis I am still grateful that we have been able to make it a little more special," Tschosik said. "None of us have been trained or taught how to teach dance in a remote setting through a screen, and the choreographers these years are doing great!"
Follow along with the DGN Orchesis dance company through their Instagram for updates about future performances and audition opportunities.