Speech Team adjusts to online environment
December 29, 2020
Numerous IHSA sports and activities faced cancellations of events and state tournaments. Speech teams across the state were no exception, as in-person speech tournaments did not take place. Instead, these tournaments now occur virtually, relying on video submissions.
The DGN Speech Team has participated in six tournaments this semester, most consisting of uploading and submitting videos.
But on Dec. 12, select members were able to take part in a tournament with live finals over Zoom. This Zoom tournament was held in two stages. The first stage was the preliminaries: members were given a week to film a video of their speech and upload it to a shared Google Drive folder. On Dec. 12, members received an email stating whether or not they were to move on to the final round. If selected to advance to the next stage, a Zoom link and instructions were provided. Their speech for the finals was to be given later that same day.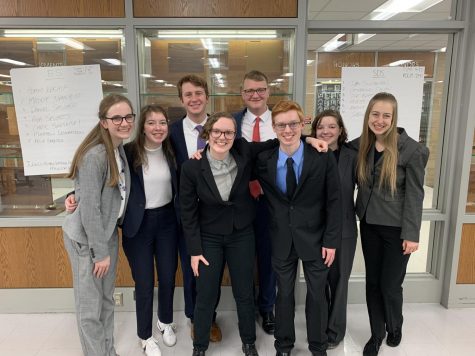 Lack of Face-to-Face Connections
Senior and Speech Captain Edie Barlin had a unique experience with the Zoom tournament. Barlin specializes in two events: Original Comedy and Humorous Duet Acting. New challenges arose when Barlin and her duet partner, Dan Sosnovsky, had to create and perform their duet without ever being in the same room.
"[My duet partner and I] still do our piece completely virtually. We have to meet up, record a zoom call… we have to work all of our blocking on video camera," said Barlin. "It's really difficult because you need to establish a connection over video, and you also can't rely on that much physical humor… Sometimes people do stage fighting and sometimes people break out to dance in the middle, and you can't really do that anymore."
Connection with one's duet partner is one thing, but the lack of connection with the audience and judges is a large piece of performing that Speech Team members had to adapt to. Senior and Speech Captain Emmitt Thulin believes the audience dynamic is a huge part in determining the outcome of one's performance.
"Normally with funny events too, you do just as well as your audience reacts to you. So if they're laughing with you, you're going to perform better. You use that dynamic to gage how good you're doing and you have to either play-up yourself or tone it down a little bit to see how people are reacting," Thulin said. "It's hard to get that connection and gage how you're going about it without having that audience."
To senior Lucas Marra, face-to-face interactions with teammates are especially important.
"Personally, the biggest challenge I faced with the online Speech Team was the lowered amount of interaction we had with the other members of the Speech Team. While we used to be able to work with up to 8 or 9 other people in a classroom after school, with online restrictions we've only really gotten to work with up to four other people online at time," Marra said. "It's also difficult to do other things like bounce ideas off of others in a virtual setting."
New Challenges Bring New Skills
To Barlin, creating and performing speeches over camera has been difficult, but has also taught her new things. When writing their scripts, speakers must now be aware of things they wouldn't have to if they were in-person.
"I do two events that are very based in physicality… for both of those, I had to write my script around the video camera," Barlin said. "Usually [in-person], you're at the front of the room, and sometimes you run around the front of the room, you have big, larger-than-life gestures. But [now] I need to be careful that I'm not going out of frame…"
As members are no longer able to be in a classroom with his peers, Marra credits the virtual environment for becoming more independent and self driven as a writer.
"I feel that one of the larger changes is that participating in the Speech Team is that a lot of our work has become self driven… We don't have an opportunity to work on our speeches in afterschool in a classroom, or bend our schedules around staying at school longer. Because of this, a lot more of our speech writing has been done solo on our own time than in years past," Marra said.
Leading the Online Environment
Along with Barlin and Thulin, seniors Sean Lifka, Maddie Naisbitt, and Grace McTigue are also Speech Captains.  As a captain, McTigue works hard to combat the lack of communication between members and keep everyone engaged.
"We've been trying to create opportunities for the team to get to know each other and connect even in this online environment but it's hard to get people to participate," McTigue said. "It's disheartening because I really want to share my love for speech with newer teammates but it's really hard when few people respond to emails or texts from Remind."
Regardless of these challenges, Marra admires the hard work and efforts by the Speech Captains. In an online environment, the captains have found ways to include team-bonding and fun activities.
"Even despite these difficulties caused by the pandemic, our speech leaders have definitely put in the effort to make sure that everyone on the Speech Team still had opportunities to meet and interact with the other Speech Team members virtually with events like game nights, as well as our virtual holiday party," Marra said.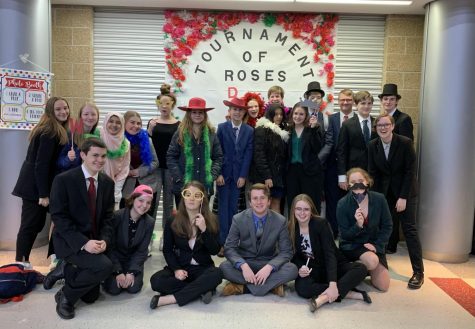 Hopes For The Future
Above all, Thulin values the community that the Speech Team has built. Though this may have taken a pause in the online environment, Thulin hopes members still have the chance to create these bonds.
"I hope that it can get back to how it was fast, because the reason why I love Speech so much was because of the community we had built… talking with your teammates on the bus, seeing people at practice, having the occasional little joke at team meetings… I found some of my best friends through the speech team, and I want other people and the next upcoming classes to have that moment, to be able to find their spot and that they belong on the speech team."