DGN reflects on this semester's schedule
The first semester of the 2020-2021 school year went unlike any semester DGN has seen before. 
District 99  started off intending to go into a hybrid schedule model, which included schedules for freshmen and sophomores through seniors, that the school board approved at their monthly meeting Aug. 3. After a release of restrictive guidelines by the Illinois Department of Public Health, we followed the previous hybrid model for a week while all online, then the fully remote schedule was put in place.
Oct. 20 brought the first day of in-person learning for all grades, where students who chose to go to school followed the modified hybrid schedule (Last names A-L; Last names M-Z), and those who opted to stay home followed the previous remote schedule. 
Due to a 62% increase in youth cases within DuPage County the end of the hybrid schedule was announced in an email to District 99 students and families from District 99 Nov. 2. Students have not had the opportunity to see the halls of DGN since.
With all of those schedules being put out, there have been a variety of responses from students. 
Senior Joe Paveleck enjoys the flexibility of the hour and a half long lunch breaks, as they have given him an opportunity to get active or go eat lunch, but he misses the social aspect of in-person learning. 
"I miss our old schedules, but I know that we are all doing the best we can," Paveleck said. 
This year brought something DGN has never seen before- 80 minute periods. Being used to 50 minute periods, students had mixed opinions about this change. 
"I'm not a fan of the 80 minute periods. I wish we could have our normal school schedule, like periods 1-8 every day with the normal time schedule. I feel like 80 minutes is too long for each class period, especially 4 days a week," Senior Elise Brenner said. 
Freshman Pallavi Fisher sees these longer periods as an opportunity to get more out of each class session. 
"Contrary to many, I enjoy the 80 minute class periods. I am able to learn a lot from the teacher during that time and normally there is some time to do some independent work," Fisher said. 
PE teacher Lindsey Giannone feels that this extended time has been useful to dive deep into the topics she is teaching that day, as well as enough time for a full warm-up, workout, and cool down. And when it comes to alternating periods that the remote schedule had, Giannone prefers it over meeting every day online. 
"Everyone is stressed and struggling so to meet every day would cause more stress and we would lose the ability to focus on just a few classes each day," Giannone said. 
Next semester's schedule includes the same 80 minute and alternating even and odd periods, but the district plans to have students in the building for four days a week. 
Leave a Comment
About the Contributor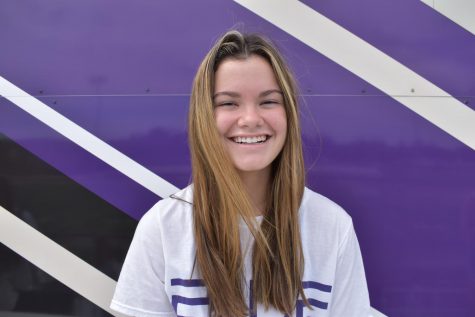 Maeve Dietrich, In-Depth Editor
The 2021-2022 school year will be senior Maeve Dietrich's final ride with the DGN Omega- this time as the In-Depth and Social Media Editor. Aside from...