District 99 finds new ways to distribute food to community
December 14, 2020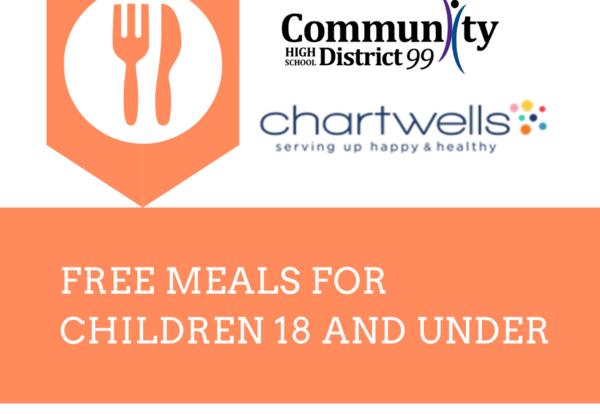 Graphic by District 99
For the 13.7% of students at DGN that currently qualify as low-income, remote learning has made the accessibility to free or reduced-price breakfast and lunch much more difficult. With 311 students at DGN eligible to receive free or reduced-priced meals this year, District 99 had to invent new ways to provide and distribute food to families in an efficient and accessible manner. 
Dr. Ken Sorensen, DGN's Associate Principal for Operations & Technology, notes that the main difficulty was finding alternate ways for students to receive their meals. The solution was to set up meal pickup locations that were open every Monday beginning Oct. 26 until winter break.
"Since students are not in the building to receive food, the challenge is finding ways for them to be able to pick it up at locations throughout the district," Dr. Sorensen said. "Fortunately, we've partnered with our elementary school districts and have a number of locations throughout the elementary and high school districts to serve families."
An additional change this year is the program District 99 is using to fund these meals. All meals provided to DGN students are funded by the USDA through Chartwells, District 99's food service provider. This has continued under a separate USDA program, with additional meals being provided.
"Once the schools closed, the district switched over from the National School Lunch Program and School Breakfast Program to the Summer Food Service Program… In that program, the district has provided six days' worth of breakfast and lunch meals per week per child,"  District 99's Business Manager Jeree Ethridge said. "The district recently applied for an additional day bringing the total to seven days worth of breakfast and lunch meals."
The USDA has also recently approved funding for five supper meals each week for students receiving free and reduced-price lunch. Dr. Sorensen acknowledges the vital role that the increased access to meals will have on education.
"Proper and adequate nutrition is very important to learning and the whole school experience. We want to make sure students have the resources and means in place to be able to be properly nourished so that they can take full advantage of all the opportunities to learn and grow while they are students at DGN," Dr. Sorensen said.
The impact felt by these meals has reached farther than just students at DGN—District 99 and Chartwells has been able to provide six free breakfast and lunch meals each week to any child under the age of 18 living in the area. This is possible because many surrounding school districts are participating in the same food service program as District 99, thus allowing families the opportunity to pick up meals in their area. 
In order to continue to provide meals over winter break, District 99 has allowed any child (or parent of a child) under the age of 18 living in the area to pre-order a Winter Break School Meal Box. These boxes, consisting of 14 days' worth of breakfast and lunch meals as well as 10 days' worth of supper meals, will be available for pickup at DGS on Dec. 17.