Overcoming Online: A look inside the minds, mental health of remote students
December 11, 2020
"Hello, I hope you are well. I am emailing you because I am not," junior Alexa Hanson wrote in an email to one of her teachers Nov. 8.
With over a month having passed since she sent her email, Hanson has still not received a reply. She has not been the only one to experience mental health struggles during remote learning, and factors like decreasing motivation and growing amounts of work have plagued students' lives. As the semester concludes, things seem to only be worsening for her, and other students in the community have experienced shared effects.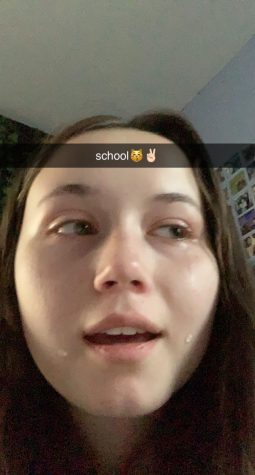 Worthless Workload
Along with having an unsuccessful time getting in touch with her teachers, Hanson has found her workload to be exhausting and frequently unnecessary.
"Personally, I have struggled a lot this year with the way that we're learning now since assignments have been kind of overwhelming and it doesn't feel like they're actually helping me to learn anything," Hanson said. "It all seems like busywork assignments that are just taking up time where I could be doing other things that would improve myself more."
With Hanson having a schedule that consists of nearly all honors and AP courses, she feels her course rigor simply is not aiding in her success.
"I'm just doing assignments that aren't helpful and don't help me to learn anything and I feel like I can't retain the information from in class. It's also been difficult to understand the content in most of my classes and it's hard to pay attention and get my assignments done," Hanson said.
Student vs. Teacher Conflicts 
In a time where many are under pressure, conflict may result. With few chances for conversation and banter, some students have found it exceedingly challenging to communicate with and explain their personal situations to their teachers.
"I have had a teacher imply to me in class that I am lazy and a bad student because I had my camera off and it has made me dread going to class every time," junior Julie Smith* said. "Some of my teachers have been super helpful and accommodating and others have been the opposite, as some notify me of what I've missed to keep me on track and others won't even respond to my emails—so there are two ends of the spectrum."
For this student, offscreen struggles have made it burdensome to find the motivation to be on screen.
"As remote school started this year, I lost most of my motivation to do anything, and the independence that remote school forces on me makes it really hard to feel motivated—which in turn makes me feel like a failure at school," Smith said. "I still feel a bit better this way, though, because I have more time to myself, and staying home is just overall easier and takes less energy out of me."
Dropping Classes
Overwhelmed with current circumstances, junior Grace Beacom found it tiring to find the will to do just about anything as compared to how she felt this past school year.
"Last year I felt really great; I would run, write a poem, paint, make videos, and even write a thousand words every day since I like to write and be creative. Even during quarantine sophomore year, I was still doing fine with school and I took the extra time to do more things for myself. But this year, everything collapsed," Beacom said.
For Beacom, daily tasks became a chore, and things that normally would be important to her and her life fell on the back burner.
"All my motivation was lost," Beacom said. "Even something as simple as walking my dog I just didn't want to do, and it was really hard going into rigorous classes online with the remote schedule that we had."
In company with those pressured by classes are ones that ultimately decide they cannot take it anymore, and the stress of online learning forced Beacom to drop out of her Advanced Journalistic Written Honors course.
"I thought I would be able to handle eight classes like I did last year because it used to put me under a healthy amount of stress. I wasn't prepared for how much online learning there would be since I was hoping for more time in hybrid, so I had to drop Journalism because I felt like I couldn't balance it all anymore and I needed to focus on core classes," Beacom said.
Like Beacom, junior Jake Riehle was not expecting his decision to drop a class, originally thinking AP Statistics would be a course he could handle.
"Normally, math hadn't been too much of a struggle for me. Being able to work on problems in class and having my teacher there to help me when I was confused made the intense workload manageable,"  Riehle said. "I could also go to school early for extra help [on] the day of a test. Having all this help readily available made math a subject I could succeed in, and I figured nothing would change when I took AP Stats this year."
When the schedule shifted to the remote, the opportunity to go in for in-person help vanished. Overwhelmed by an already rigorous schedule, Riehle felt he was out of options.
"AP Stats was a new and confusing type of math and I struggled to learn the material. Office hours felt unhelpful, and without the same chances to ask questions and review in person, I was lost. After struggling for the first month, I felt like I had no choice but to drop the class so I could have more time to focus on my other subjects," Riehle said.
Looking back on his decision to drop at the end of September, Riehle is happy with the choice he made.
"Since dropping Stats, my performance in other classes has improved," Riehle said. "The extra 80-minute gap in my schedule gives me the flexibility to work on other subjects during the school day. Without the extra burden of a challenging AP class, I don't feel nearly as overwhelmed as I did at the start of the school year." 
Missing Hybrid
Like Beacom, senior Jackson Flynn agrees that a regular in-building hybrid schedule would have helped his routine as opposed to the constant and last-minute changing of schedules and formats.
"A consistent hybrid format would have helped for sure because it would provide some social interactions," Flynn said. "It would also just get me out of my house for a little bit and give me some sort of structure which I think would help motivate me."
Being a senior, Flynn has found it difficult to engage in a normal experience without the in-person support of his friends and teachers.
"I think that remote learning is a lonely experience. It has definitely contributed to feeling lonely in my own life because I'm alone in my room most of the day. Doing remote learning is also very demotivating because it is hard to care about school when it doesn't feel like school at all," Flynn said.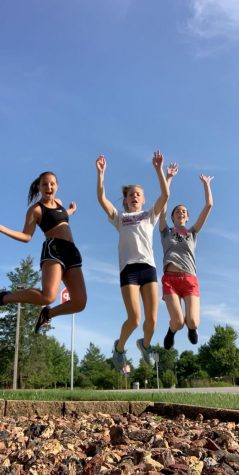 Saved by Sports
Despite all the anxiety remote learning has caused, some students at DGN have developed their own coping strategies.
"E-learning has made things very stressful because teachers are giving us a lot more homework," junior Emily Pierce said. "It also makes it seem like I can't get school help if I need it [and] it's made me very unmotivated."
Being a member of two varsity sports, Pierce has found running to be an escape from her problems that clears her mind.
"Doing cross country and track makes me forget about being stressed and it helps to run with your team safely and talk about how you've been feeling on the days that are rough," Pierce said.
Alternative Benefits
Though a majority of students have seen a decrease in their mental health, some have noticed a benefit in the situation at hand.
"For me, [my mental health] got better actually," junior Mia Chen said. "I just feel I get more freedom and time to do things. Before, when we did school in person, it was tough because I was always rushing to places and rushing through my assignments."
Though Chen is not proud of the fact that she appears to have benefited from the pandemic, she is grateful for the opportunities that virtual school has brought.
"I feel remote learning was one of the best things that happened to me at DGN," Chen said.
Lack of Social Frenzy
Freshman Kelsie Arndt agrees with Chen, but for an alternative reason.
"I have anxiety, which makes it really hard for me to be in social situations, and one of the biggest struggles for me is school because there are so many people," Arndt said. "Staying at home and e-learning allows me to be in what is called a 'safe situation' where I don't feel uncomfortable or alarmed."
Despite this benefit, Arndt believes remote learning may have harmed her and influenced her anxiety.
"On the flipside, e-learning is allowing me to stay away from my anxiety instead of facing it every day by going to school. So, in a way, e-learning has worsened my social anxiety because I haven't had to put myself in as many 'unsafe situations,'" Arndt said.
Professional Perspective 
With students struggling, counselors and school psychologists are ready to aid in supporting students. 
"The more we talk about it, the more we normalize it, the more we accept it, the more we can break that stigma," school counselor Katelyn Pantke said.
Students can reach out for help by means of email or talk to someone via a video call by scheduling an Online Counseling Appointment.
"Students have been able to meet with their counselors and or social workers and psychologists via Google Meet or Zoom just as they have with their teachers," school psychologist Angela McAndrews said. "Everyone in the CSSS department has office hours as well, and students can reach out through email to schedule an appointment." 
To gain additional viewpoints, check out this story.
An Impact on Everyone
In an Instagram poll conducted on a staff member's personal account Dec. 3, 110 students from Downers Grove and in neighboring communities voted that their mental health worsened during online learning. Only 21 said it had gotten better or stayed the same.
These numbers speak for themselves, and the CDC reports that mental health-related cases are only on the rise, specifically in cases of depression and anxiety. As for the future of remote learning, the unknown remains.
If you're struggling, here are a few links to resources that can help:
*the name of this student has been changed to protect their identity