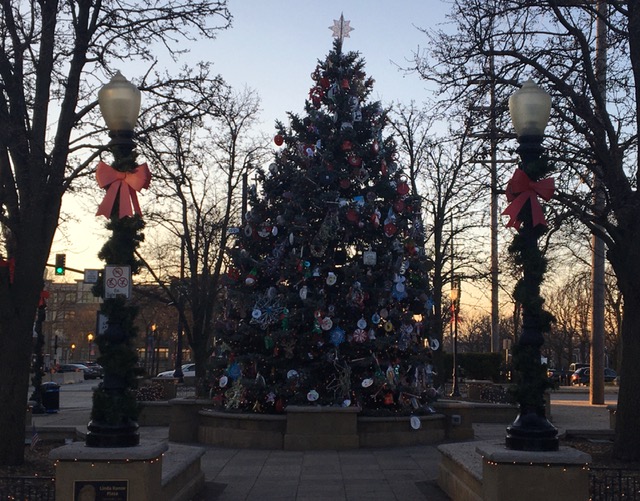 Refashioned Festivities: DGN community revises, amends holiday plans, traditions
December 10, 2020
"This year has been incredibly rough for my family and me. We look forward to December all year so we can celebrate the holidays and have fun with our friends and extended family, but, of course, the pandemic has, like many other things this year, changed all that," Downers Grove resident John Schultz said. 
For most of the year, the world has altered countless events and gatherings to promote people's safety and reduce the spread of COVID-19–and the holiday season appears no different. With Coronavirus Response Coordinator Deborah Birx labeling the virus's winter surge as the "worst event that this country will face" and the Centers for Disease Control and Prevention (CDC) releasing updated safety protocols, the DGN community will observe several changes in its typical December traditions, leaving some feeling mixed emotions. 
"Personally, I don't know how I feel. I'm excited to see my family, but I'm nervous due to COVID-19," senior Jocelyn Novielli Mahr said. "I'm hoping that everything works out okay and I'll be able to see my family safely."
Like many members of the DGN community, Novielli Mahr typically visits other people for the holidays and looks forward to seeing her grandparents soon. However, Mahr and her family will follow strict safety protocols this year to avoid the virus negatively impacting their health.   
"This year, my grandparents are flying in from Arizona. I plan on seeing them, but with a mask on and no closer than six feet. I take the pandemic very seriously, and I do not want to risk infecting them or others," Novielli Mahr said. 
Schultz and his wife will observe two different religious holidays this month but rely on the weather to gather with their daughters and grandchildren. 
"I am Christian, but my wife is Jewish, so we and our kids have always celebrated both Christmas and Hanukkah," Schultz said. "However, I have a heart condition, so I am a little reluctant to visit with our kids and grandchildren in person. If it isn't too cold, I would be comfortable celebrating with them outdoors, but if it's cold and snowy, we'll likely FaceTime them instead." 
Aside from regulated gatherings, many members of the DGN community will observe other changes and obstacles with holiday events and plans due to the pandemic.   
Downers Grove resident Sarah Taylor has a 6-year-old daughter and 5-year-old twins, who worry that Santa Claus will not visit them this year because of the virus. In response, Taylor developed an impromptu arrangement to ease their concern. 
"I was thrown off guard when they told me how concerned they were of Santa not coming this year. I didn't know what to say, so I quickly told them that he will still come since his 'magic' makes him 'automatically immune' to the virus," Taylor said. "Then I came up with this idea one night of hiding tiny notes with pieces of candy around the house that were 'from Santa' with reassuring messages on them." 
On the other hand, the pandemic and safety protocols have made other holiday traditions more challenging to uphold. Fine arts teacher Amy Bernard was initially going to celebrate part of the holiday season with her friends and family by attending a few annual festivities. But, the virus has taken its toll on these plans as well.
"Usually, I would go to the Geneva Christmas Walk with some friends, but this year it's canceled," Bernard said. "There is a [tree] lighting ceremony in Lilacia Park in Lombard where we live usually, but this year they just turned the lights on without a ceremony."
While the upcoming holiday traditions may look unconventional on various levels, there is still hope and positivity in the air–and a little festive magic–to keep spirits raised as this year's chapter concludes and a new one begins.
"I'm excited for [the holiday season]. It may look a bit different, but I'm optimistic," Junior Miranda McNally said.