Styles' historical looks and steps toward gender fluidity
November 22, 2020
Congrats everyone, we made it to the end of the year 2020. We've encountered and dealt with a pandemic, waves of civil rights movements, and a presidential election. Alas, who knew a simple blue dress could draw in so much negative media attention.
On November 13, Vogue Magazine released its December cover issue, with the singer-songwriter and actor, Harry Styles as the cover. This would be the first solo man ever to be on the cover of Vogue since the magazine's first publication in 1892.
The images of Styles wearing traditionally feminine clothing quickly started a firestorm of controversy on social media, with one prominent conservative political writer voicing her opinion.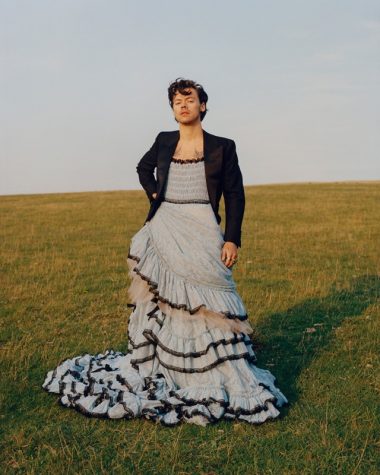 "There is no society that can survive without strong men. The East knows this. In the west, the steady feminization of our men at the same time that Marxism is being taught to our children is not a coincidence. It is an outright attack." commentator Candace Owens tweeted, "Bring back manly men."
Her tweet soon ignited a firestorm of fans defending Styles' fashion choices and critics condemning the nontraditional clothing articles. Amidst the thousands of Twitter threads and Instagram comments, the online discussion regarding Styles' gender-neutral clothing choices brought up an important conversation about one's identity.
The idea of gender and the expectation to abide by societal roles is deeply ingrained in modern Western culture, in that a man should be identified by their masculinity and a woman should be defined by their femininity. This preconceived notion has constantly portrayed the negative impact on one's self-identity.
However, the rules that tie down femininity and masculinity to a certain style of clothes are constantly being rewritten. Feminist movements have taken by storm in changing labels and breaking down gender barriers. One does not have to conform to preconceived notions about one's gender identity, taking their decision in how to express themselves into their own hands.
Artists like Prince and David Bowie have been defying these fashion stereotypes for years. Younger celebrities like Timothée Chalamet and Jaden Smith have also been taking on the challenge of breaking down the fashion barriers and paving a new way for gender-fluid fashion. 
The only way to solve this ongoing issue is to preach that there are different types of masculinity and femininity that value fluidity and open-mindedness. Strength and confidence come in many forms, not just brute power, but for standing up for what you believe in.
In Style's Vogue interview, he describes the fluidity of what fashion means to him and the joy he gains.
"I think if you get something that you feel amazing in, it's like a superhero outfit. Clothes are there to have fun with and experiment with and play with. What's really exciting is that all of these lines are just kind of crumbling away," Styles said, "When you take away 'There's clothes for men and there's clothes for women,' once you remove any barriers, obviously you open up the arena in which you can play."
Fashion has a meaning, as in every art form, and doesn't have the same meaning for everyone. The artificial boundaries of clothing having a specific gender are outdated and tiresome. The pure meaning of fashion is a form of self-expression and everyone has different interpretations for what that means.
"There's so much joy to be had in playing with clothes. I've never really thought too much about what it means—it just becomes this extended part of creating something," Styles said.