Best of teacher's Zoom backgrounds: from memes to Batman
November 17, 2020
With classes being remote, a new opportunity has been presented which allows teachers to set their backgrounds on Zoom to any image they see fit. Here are some of DGN students' favorite picks for teachers with the most creative backgrounds:
Ms. Houlihan
Switching up her backgrounds weekly, French teacher Kelly Houlihan has found using humor within her Zoom backgrounds to be a light-hearted way of keeping things entertaining during online learning.
"It's unfortunate that we're doing remote learning, so I like to make any kind of joke I can where I can express myself in a comical way," Houlihan said. "I know that my AP and French 5 students specifically are more involved in current events, so it's really just about bringing light to various situations."
Houlihan plans to continue creating backgrounds of her own in the future so long as class via Zoom continues, as well as using pre-made ones she finds online. Some of her most recent creations have included memes, visiting areas in the francophone world, and sitting in Central Perk—a coffeehouse from the sitcom Friends.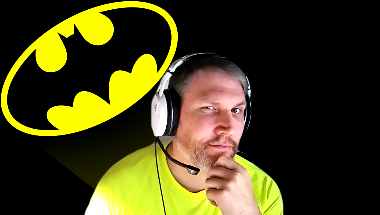 Mr. Szymanski
Noted for his daily use of the bat signal from Batman, turned on in Gotham when the city needs help, physics teacher Michael Szymanski views his background as an expression of confidence.
"I use it because I think it helps me share a bit of my personality with my students. The background lets me be me," Szymanski said. "I hope it makes my students feel welcome and give a subconscious sense that I am here to help them."
Aside from the comic relief it carries, Szymanski also believes that Zoom backgrounds can have a symbolic message that can make students feel more welcomed. 
"These virtual meetings are often hard places to make personal connections with students, so I try to use every tool I can think of to make a connection with as many students as possible," Syzmanski said.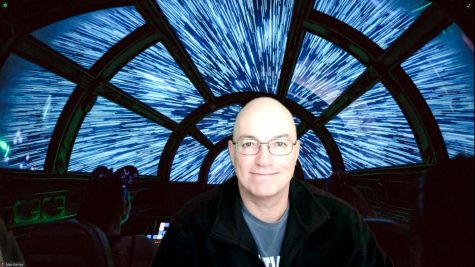 Mr. Kersey
Switching from DC to Disney, fellow science teacher Alan Kersey utilizes a Millenium Falcon background, which reminds him of his youth.
"I chose the Millennium Falcon background because I didn't want it to be boring, and it reminded me of when I was in 8th or 9th grade and I saw the original Star Wars in a theater shortly after it's release—because, yes, I'm that old," Kersey said.
Aside from the initial showing off of the background, Kersey has found it to have become more of an everyday norm.
"By now, I think everyone pretty much ignores the backgrounds. At first, I did ask some students if it was too much or too distracting, but they said I should keep it, so I did," Kersey said. "I guess I just enjoy being able to add something that is a little 'out-of-the-ordinary' to my day. Hopefully, my students enjoy it too."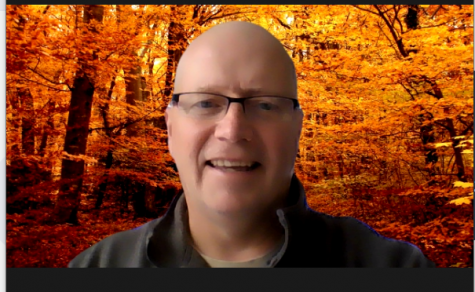 Mr. Ruffolo
Science teacher Steven Ruffolo likes using backgrounds as a method of relaxation to brighten his and his students' days.
"I have had several students comment that they like them and some parents, as I used it during parent and teacher meetings too," Ruffolo said. "I think it adds a bit of comfort or maybe a bit of a soothing to the Zoom class."
Ruffolo changes up his background per the weather or current season and is currently sporting a fall-themed scene.
"Earlier this year, I was using a beach video scene, but for the last six weeks or so, I have been using a fall forest setting with all the color change. Fall is my favorite season, and as a trained forester, there is nothing better than being in the woods," Ruffolo said.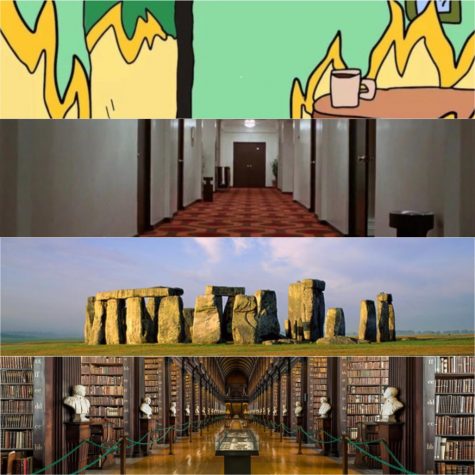 Mr. Greaney
English teacher Matthew Greaney enjoys using various backgrounds, whether it be to beat the aesthetic of looking at random walls in his home, to switching things up to reflect more recent events.
"My default background is one of a handful of beautiful libraries from around the world. My favorite is the Library at Trinity College in Dublin. As an English teacher, I think it's a good tone-setter," Greaney said. "On occasion, I'll switch to something that is more timely. For instance, during the autumnal equinox, I had Stonehenge as a background, or, during the week leading up to Halloween, I had Sharknado and The Shining backgrounds. During the week of the election, I used the 'Everything is Fine' background. Obviously, there is no academic function to those backgrounds, but they were entertaining for me, and hopefully for my students."
Though Zoom contains various functions, Greaney believes the software can make obtaining a clear sense of personality difficult. Given the current circumstances, there are limited opportunities available to build connections.
"While these backgrounds are never going to come close to approximating that value, they do provide a window into my personality to a degree. I do take the teaching of content seriously, and creating the appropriate tone is important. That said, irreverence and levity, within reason, seems appropriate given the unprecedented nature of schooling these days," Greaney said.
Mr. Bodenheimer 
Spanish teacher Joshua Bodenheimer switches up his background to reflect various areas of Spain, which was inspired by a fellow teacher he met.
"I was at a professional development workshop this past summer and another Spanish teacher placed a picture of herself along 'Las Ramblas,' a well-known tourist attraction in Barcelona, Spain," Bodenheimer said. "This teacher really inspired me to utilize my Zoom backgrounds as a means of engaging and immersing my students in an authentic learning environment."
Bodenheimer believes that his teaching expands beyond the means of vocabulary, grammatical structures, and information about Spanish-speaking cultures, so his backgrounds are another method of allowing students to dive in and truly grasp a topic.
"My philosophy is focused on application and production of language. In this remote learning environment, I want students to feel as immersed and assimilated as possible, allowing them to understand the purpose behind what we are learning," Bodenheimer said.