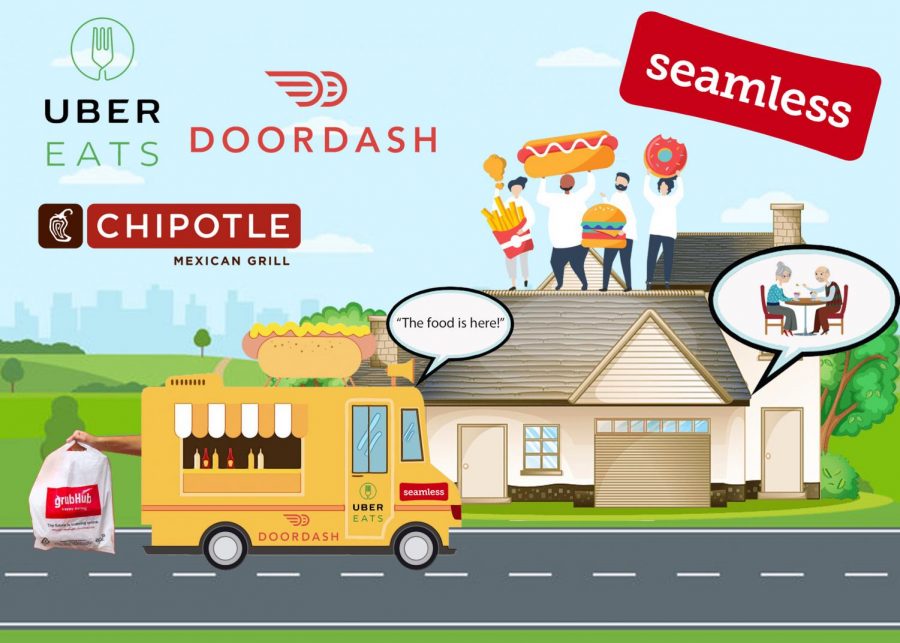 Hanscom's Top Five: Food delivery platforms you can use to support local restaurants
November 9, 2020
Back when we were at school in person, the hallways buzzed with the conversation of our local restaurants' delicious food and grandeur. But with limitations in effect again throughout Illinois, these restaurants face constraints and limit indoor dining. In turn, fewer choose to dine out, harming restaurants' service and putting them at risk of closing. Luckily, I have composed a list of five platforms the DGN community can use to support and replenish local restaurants' business and publicity. Please enjoy!
1. Grubhub
In the past, I've spoken to many students and friends who seek an efficient, effortless way to get restaurant food delivered to them–and Grubhub does just that. One of the most popular and easy-to-use restaurant delivery programs, it's available on numerous devices, granting accessibility to anyone with a gadget in hand. Additionally, Grubhub has a lot of neat features you will enjoy: not only does it allow users to mark their favorite restaurants and dishes, but it also permits them to pre-order food up to four days in advance. I've used Grubhub quite a few times, and let me just say, it will not leave you disappointed!
2. Doordash
I remember speaking with a fellow DGN student last year who told me about Doordash. They adored its simplicity and straightforwardness and encouraged me to try it out–which I did. And from my experience with the platform, I must recommend it. Another blockbusting restaurant delivery software, Doordash boasts a 4.6-star rating on Google Play and a 4.8-star rating on the App Store. While it may daunt you that you need an account to use it, know this: you may order as much as you'd like to with Doordash and can expect your food to arrive in 45 minutes or less! It even lets you view previous orders, which makes it easy to reorder your favorite delicacies from our town's spectacular restaurants.
3. Uber Eats
For students and staff who are fond of Uber or just looking for a well-structured food delivery system, Uber Eats is just for you. While you must pay a delivery fee, don't fret, as Uber Eats owns many attractive, handy features that makes using it worth your time! People can implement Uber Eats for delivery and self-pickup and enjoy reliable order tracking with estimated delivery time. It also provides substantial customer service. One time, they screwed up my cousin's order (a rare occasion; this was during the chaotic holiday season) but offered a complimentary refund. In any case, Uber Eats is yet another exemplary program for supporting many of Downers Grove's popular restaurants! 
4. Seamless
Seamless lives up to its name and is exactly what it's called: seamless. I haven't heard about this program until just recently, but when my family tried it, we were impressed. Seamless has an organized website and app which grant users access to customer reviews and ratings. One can search for their desired cuisine, and the program will show all the restaurants in its system that offer it! You can even make special requests upon ordering, saying ingredients you would like left out or you'd like more of. And, when using Seamless, I was intrigued to find that there was no delivery fee–something I'm sure is behind the platform's extensive popularity. 
5. Individual Restaurant Apps
Sadly, many great restaurants like Jimmy John's and Chipotle are less available now, having restrictions and not allowing indoor dining. But did you know that many of those restaurants have their own delivery app? Many of these apps are free and convenient, efficient and useful for when you're pressed for time. While some users have reported server issues occurring and certain food information being inaccessible, these restaurant apps are still thriving and have good business with millions of users. And, if all else fails, just check out the apps above, which are equally as useful and well run!