DGN bleeds purple… or blue?
November 3, 2020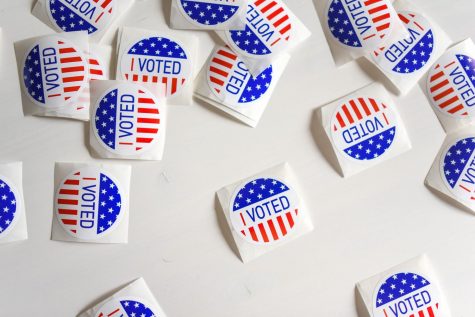 As the results of this year's presidential election start to trickle in tonight, the whole country waits in anticipation. The final results, as we know, may take weeks. But you don't have to wait for the results of DGN's 2020 Mock Election.
Every four years, DGN's Government Club sponsors a mock election with the League of Women Voters. Students "vote" in-person with official machines and ballots. This year, a modified ballot was sent out to all social studies classes via Google Form, along with a voter forum presentation and video created by Government Club. Students had 5 choices to make: the next US President, Illinois Senator, Illinois Representative (6th and 11th District), and the Proposed Amendment to the Illinois Constitution.
There was a clear winner for every category, as the candidates emerging victorious came out with more than half of the votes from the 1,250 ballots cast. This holds true for the Illinois Proposed Amendment as well. 
In the race for the US Representative in Congress for Illinois' 6th Congressional District, challengers Jeanne Ives (R) and Bill Redpath (L) look to unseat incumbent Sean Casten (D). Casten dominated the polls receiving 70.5% of the votes. Ives came up short with 25.8%, leaving Redpath with 3.7%.
It was no tight race for Illinois' 11th District either. For US Representative, Rick Laib of the Republican Party fell to the incumbent, Democrat Bill Foster. Foster won 70.3% of the votes, Laib receiving 29.7%.
5 candidates for US Senator appeared on students' ballots: Dick Durbin for the Democratic Party, Mark Curran Jr. for the Republican Party, Danny Malouf for the Libertarian Party, David Black for the Green Party, and Willie Wilson for the Willie Wilson Party. The results: the incumbent Durbin with 63.5% of the votes, Curran in second with 26.1%, Wilson with 4.9%, Black with 3.1%, and Malouf with 2.4%.
An initiative by Governor J.B. Pritzker and passed by Democrats, the 'Fair Tax' Amendment is included on Illinois' November ballot. 61.1% of students voted in favor of the amendment, and 38.9% voted against.
Third Party Presidential Candidates Brian Carroll, Howie Hawkins, Jo Jorgensen, and Gloria La Riva combined to receive 5.3% of the votes. Incumbent Donald Trump of the Republican Party fell to Democrat Joe Biden, Biden receiving 63.3% of DGN's votes.
Each race had a clear winner, and each victory favored the Democratic Party. As these results represent almost half of the student body, many students and/or their families look to be voting blue this November.