Private school protocols: how nearby schools are learning in-person
September 15, 2020
"I am just really grateful that I get to see my friends, classmates, and teachers every other day because I know there are many around who don't get that luxury," Benet senior Paige Scanlon said.
Though DGN was not able to go back to school right away because of certain health concerns, private schools nearby have taken extra safety precautions to be able to do so. Schools like Montini Catholic High School and Benet Academy have been using the hybrid schedule since the start of the school year.
Both have guides on their websites updating and explaining new rules concerning the Coronavirus; Benet's Nurse's Office page and Montini's COVID-19 Updates. 
They have also implemented certain precautions, such as specifying hallways as one-way and requiring students to wear a mask at all times (besides lunch).  
Students have also had to develop different ways to learn, especially since they are switching between in-school to online learning throughout the week. Both schools alternate days they go to school: Monday, Wednesday and Friday one week; then Tuesday and Thursday the next.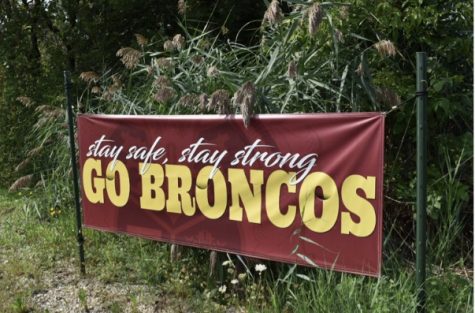 MONTINI
Marking a historical school year, students started their new hybrid schedule at Montini Aug. 17. Montini is located in Lombard and their student population is around 600.  However, due to COVID-19, they make sure to have less than half their students in the school at one time. 
They are split up into two groups, the Gold or the Maroon group, depending on the students schedule and families are together. Junior Ryan Hubeny explains what he thinks about the new school-setting. 
"School has been going well, but it is definitely much different than what it used to be. At home, I wake up at 7:30 and a google form for attendance is sent to all of the at-home students at 7:45. But for me, I like going to school more because I find it much easier to learn," Hubeny said.
Montini Principal Kevin Beirne has been very pleased with how the hybrid schedule has worked so far.
"Our students, faculty, and staff have done an excellent job while in school adhering to our COVID mitigation guidelines," Beirne said in Omega interview. "Though it is certainly more challenging to engage in teaching and learning in today's environment, it's going as well as we could expect."
Due to protocols, the only time students are able to take off their masks are at lunch, but Montini is making sure that they are being cautious. 
Lunches are individually pre-packaged to keep a lack of contact between students. Michelle O'Connor works in the Development Office at Montini and talks about another way they are being safe during lunch. 
"The cafeteria is being used in addition to our gym and student services hallway for lunch periods with three students per table. We are also trying to encourage students to use their cafeteria accounts to pay for lunch instead of cash," O'Connor said. 
Though most things have been working out well, Beirne says there are still some obstacles that are being improved.
"I've heard one of the biggest challenges is managing both students in class and those at home. Our teachers are utilizing video conferencing technology to provide classroom access to those studying from home," Beirne said.
Even though they are only in school for half the days every week, Hubeny explains that the good outweighs the bad.
"Montini has given me the chance to see my friends and teachers in person for the first time in months," Hubeny said. "I'm grateful and appreciative for the accommodations that they have made for their students."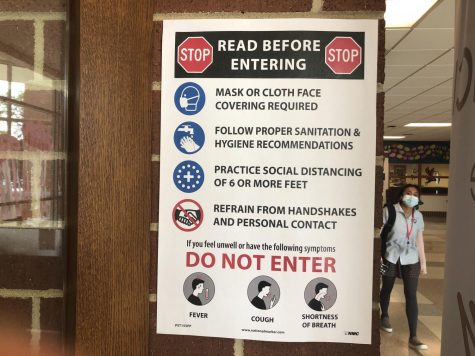 BENET
Benet, a local private school in Lisle with a population of about 1,300 students, started in-school learning Aug. 25. Benet splits their groups alphabetically A-K and L-Z. An average classroom holds 16-18 students at each time, and hand sanitizer is located in each classroom. Their lunch is split into three different places, so that each student can keep socially distanced. Senior Paige Scanlon explains how Benet has also adjusted the release times to avoid close contact. 
"Sophomores and freshmen get released at 3:05 so that it wouldn't get super crowded with the upperclassmen. We get out at 2:59 and it takes a lot less time to get out of the parking lot and leave which is really nice," Scanlon said.
Assistant Principal William Myers helps with everyday situations and meets with teachers, students, and counselors on a regular basis to solve any problems. He explains how Benet has been keeping close contact with each other to ensure safety.
"Our Administrative Team met all throughout the summer, with guidance from the Illinois Department of Public Health, to design a new format to the school year that would enable us to keep our students, faculty, and staff safe while still providing an engaging environment for our students to grow and learn both academically, spiritually, and personally," Myers said in Omega interview. 
Freshman Grace Babich also believes that Benet is doing a great job keeping everyone safe. Being at a new school she was excited, but it is hard for her to think about what high school would be like without COVID-19.
"I think Benet is doing a lot to keep us safe and they are definitely being super strict about keeping our masks on when we are not eating lunch," Babich said. "It's a really different situation though. It is weird especially being a freshman because I've never experienced what high school would be like without COVID[-19]."
Even though her senior year is far from normal, Scanlon has been looking at the positive side of this school year and how it has surprisingly been steady in her view. 
"I thought there were going to be a lot of bumps in the road, but surprisingly it is transitioning pretty smoothly. Overall it is going pretty well because people saw COVID coming this year," Scanlon said. "For example, the seniors last year had no idea what was going to come and we saw it happening and expected the worst. Now, when something good happens, we are pleasantly surprised." 
Myers is pleased by how much Benet has shown up for each other. Parents have adjusted to new schedules, and students are developing a new way of learning and adjusting to being split apart from half their class. 
"Faculty, staff and students alike have been learning from each other and teaching each other new technologies to stay connected, alumni have been reaching out to see how they can help in these new circumstances. It really gives 'apart yet together' a whole new meaning," Myers said. 
LEAVE OR STAY?
Some students were worried about going into this 2020-2021 school year at DGN because of going fully-online. Former DGN student Emily Chvatal was one of those people who had a hard time last March. She decided to transfer to Benet for her senior year to get some social contact with her peers and teachers. 
"Last year during e-learning I spent all my time stuck in my room listening to zoom calls and not really retaining anything. I wanted to go to school, interact with people and teachers and Benet offered that for me," Chvatal said. 
Chvatal is happy with her decision to transfer because Benet offered in-person classes, which she wanted to be a part of.
"Of course I will miss North. I loved it there. [I made] lots of friends and the faculty is amazing. But I know that it wouldn't have been the same," Chvatal said. "I was more concerned about wasting my senior year. It is an important year that is filled with memorable moments and I didn't want to miss out on that. Benet is great. Everyone here is extremely welcoming and helpful."
Likewise, DGN junior Ella Sebek was considering transferring to Montini for this school year because of the hybrid schedule, but ultimately decided to stay.
"I was more concerned about falling behind in my education because having in-person classes makes it easier to ask for help and it is an easier way of communication," Sebek said. "Still, I decided to stay because I realized I could never find an environment any better or even close to DGN. I love everything about this school and I could never leave." Sebek said. 
RESPECTING GUIDELINES
There are many specific steps and precautions taken to make sure students are not only keeping themselves healthy, but others, too. Hubeny says that people at Montini are being respectful towards the rules. 
"The teachers are being strict about the social distancing and mask wearing, but most people are able to follow the rules themselves," Hubeny said. 
Myers is also willing to adjust certain protocols whenever needed to ensure that they are keeping up with health guidelines at Benet. 
¨We are always looking to improve both the safety and academic outcomes for our students in this 'new normal'" Myers said. "The difficulties of adjusting to wearing a mask seven to eight hours a day or staying six feet apart from one another are worth it to keep everyone as safe as possible at school while still trying to foster a community atmosphere that in-person classes provide."