Holiday season traditions differ between schools
December 9, 2019
Both DGN and DGS students are kicking off the holiday season by giving back to the community.
To kick of the holiday season at DGN, Direct Action partnered with Humanitarian Service Project to provide Christmas gifts to children and the elderly.
"We are the middle person on connecting DGN and [Humanitarian Service Project] together, and we provide the names and lists of the kids and senior citizens to clubs and sport activities and families in the DGN community," Direct action sponsor and Giving Tree coordinator Lisa Mangelsdorf said.
Every year, the Humanitarian Service Project gives Christmas lists belonging to children and senior citizens to the Giving Tree for them to distribute them out to volunteers. Clubs, sports teams, classes, and families then sign up for a certain amount of children and senior citizens.
"It's a really nice team building activity for the groups who do it," Mangelsdorf said, "[Volunteers] raise the money together, they shop together, they wrap the presents together."
The Giving Tree has worked along with the Humanitarian Service Project to carry out the holiday tradition for 24 years. It has since become a seasonal tradition throughout the school.
"I like to have a charity that the whole school is working on instead of where every club and activity is doing one little thing," Direct Action sponsor and Giving Tree coordinator Karen Brown said, "[DGN community] take one big thing and work together on it and I think that makes much more of an impact."
The organization allows volunteers to not only assist the less fortunate, but to grow stronger team skills and a passion for helping others.
"We hope to help people find their passion. Things that they want to do to help others. Just being able to make a difference in their life and feel that," Brown said.
The success of the charity and how well it does every year is due to the participation of the community.
"We have been very lucky to work with such a great community at school and we've had no problems getting our families adopted," Mangelsdorf said.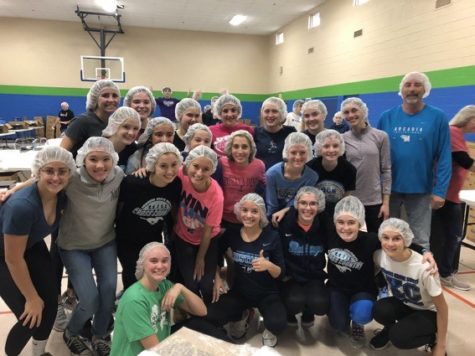 With Thanksgiving in the past and winter break around the corner, the holiday spirit is in full swing, evident by the charitable actions of students at Downers Grove South.
Senior Allison Eberhard is just one of the students who volunteers regularly with a charity. Eberhard works at the local humane society, a no-kill shelter that is focused on finding forever homes for its animals. Eberhard hopes that by sharing her time and effort she will make a positive impact in the lives of countless animals.
"I just want to see an empty shelter one day because that means we have saved all we could. I know this is unlikely to happen because there are so many dogs in need, so any part I can play in making the lives of these animals any better is an accomplishment for me," Eberhard said.
Although the holidays can be a hectic time for many, the goal of the volunteers at this organization remains the same year-round despite the seasonal chaos.
One charitable group that especially thrives during the holidays is Feed My Starving Children, specifically a FMSC mobile station hosted once every year by senior Erin Reidy and her family. Reidy's family has been running this site for the past nine years, inviting friends, family and other members of the community to volunteer the day before Thanksgiving.
Reidy shares the motivation behind their yearly Thanksgiving Feed My Starving Children sessions after being inspired through work with their church.
"It means that every little thing I do in the sessions makes a huge impact on someone else's life. It's great knowing what you're doing is fueling someone else's dreams and wishes for their future; it's giving others hope," Reidy said.
These acts of community service and charity will be carried into the new year. Although the selected charity has not yet been revealed, Downers Grove South Student Activities Director Jennifer Martinez speaks on the objectives.
"The goal of all of our philanthropy projects is to be compassionate towards others. Another goal is to unite us behind this special cause and make a positive impact in the lives of others together as Mustangs," Martinez said.