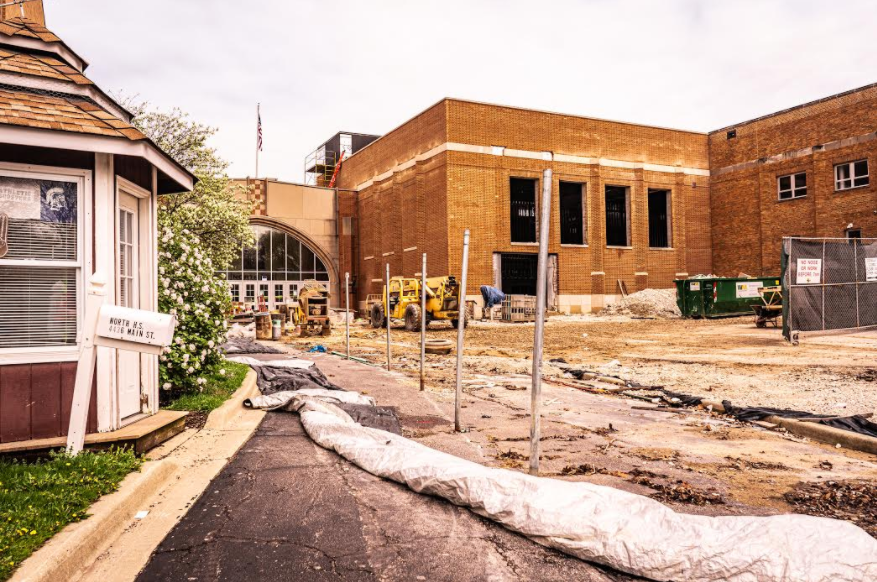 Since the school closed due to COVID-19, the Wight construction team has been able to work on Phase B of District 99's Master Facility Plan without the restrictions of students and staff in the building. This extra time has allowed projects to begin earlier than scheduled.
"Up until now, it's been little projects like asbestos removal and those kinds of things that we wanted to get out of the way thinking that we were going to come back on May 1," Superintendent Hank Thiele said on a virtual CSD99 School Board meeting April 20. "But now we can really redesign some of this and get a headstart on some of the bigger projects." 
Originally, several projects within Phase B of construction were scheduled to continue two to three weeks into the 2020-2021 school year. However, there is now a possibility of an earlier finishing date. 
"The best-case scenario is that when school opens in August, all of Phase B construction will be completed and accessible. We are hoping that construction is able to continue without delays this summer and that the work that we are able to start now due to the current school closing will help us complete Phase B by the start of school,"  Associate Principal Dr. Ken Sorensen said in an online interview with the Omega. 
Phase B includes new facilities such as a student dining area, gymnasium, and athletic loft (click here to see a detailed description of Phase B). It also features a new Southeast tower which will be made up of new visual arts classrooms, CTE classrooms, and science labs.
"Originally, the entire Southeast tower likely wasn't going to be ready until approximately two weeks into the start of the fall semester," Principal Janice Schwarze said in an online interview with the Omega. "Now, we are hoping it will be ready at the beginning of the upcoming school year."
Completing the Southeast tower early will eliminate any learning disruptions that may have occurred at the beginning of the next school year. 
"There was a lot of work where we were going to move students out of classrooms for the last two weeks of school. That project was probably going to take us two weeks on the front end and two weeks at the back end of the summer. We would've been moving students in after the start of the school year into that wing," Theile said. 
According to Dr. Sorenson, the new set of bleachers will be installed by mid-June. This means that they will be ready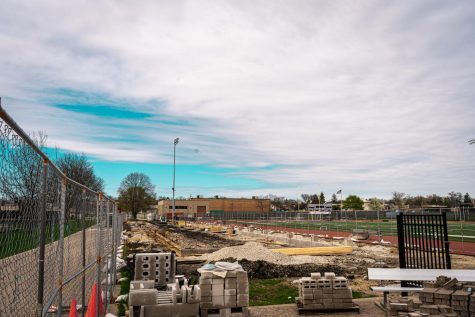 for the graduation ceremony that has been postponed until June 28. Up until this announcement, graduation was scheduled to be inside due to bleacher construction delays (which you can read more about here).
"The home bleacher peers [foundation for footings] have been completed, and the visitor bleachers started [April 6]," Director of Physical Plant and Operations Jim Kolodziej said during a virtual CSD99 School Board meeting April 6. "We will be working at South on the bleachers, and then they are going to head over to North once those are complete."
So far, according to Dr. Sorenson, there have been no disruptions of construction due to the coronavirus and it has had no immediate impact on the Master Facility Plan budget; however, regulations have been put in place in order to maintain a safe environment. 
"Everyone is required to wear a face mask and to maintain physical distance to the best of their abilities while on the construction site," Dr. Sorensen said. "All design and construction meetings and updates occur via videoconferencing."
One concern that has resulted from COVID-19 is a possibility of supply chain issues for materials. As of April 6, this hasn't been a problem for construction. 
"So far, so good for anything shipped from overseas, such as equipment and large items. Some are coming from Italy and China–those are the ones that we are keeping a close eye on to make sure we get the materials,"  Kolodziej said. 
The headstart the team has been given due to school closings has motivated them to work hard over the summer and complete all of Phase B. 
"We are pushing a lot of the work to be done now," Kolodziej said. "We actually have some work done now. We were waiting for the announcement of school being closed for May, but now we are organizing and we are going to hit this hard."