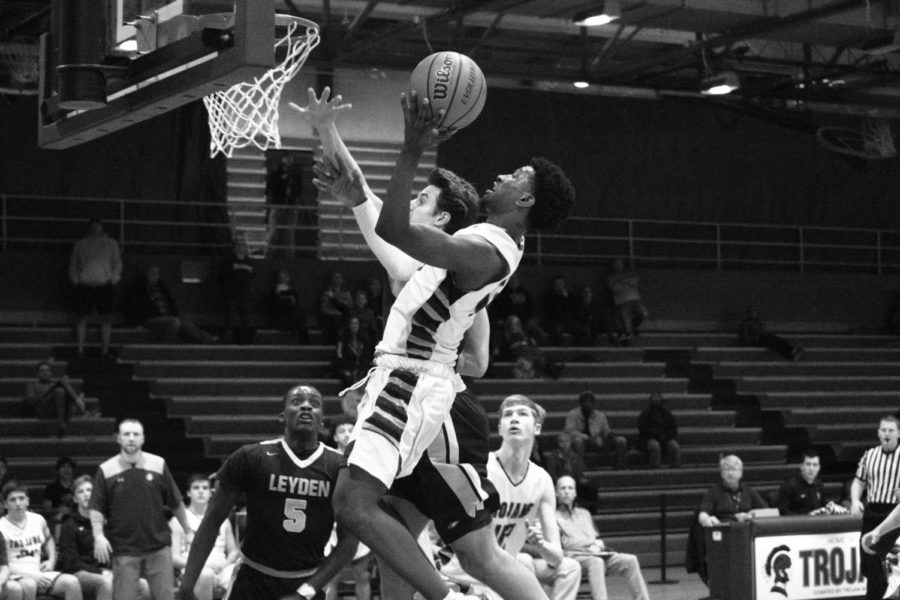 Moises Dominguez
The 2018-2019 boys' varsity basketball team reached a goal that hasn't been earned in 20 years. The Trojans finished with a final winning score of 62-59 against Leyden High school Tuesday, Feb. 19, making the boys' record 20-11.
Towards the ending of every season, the equal seeds in conference in the West Suburban silver and gold conference play each other. Leyden high school and DGN both finished at third in their conference before the Leyden vs. DGN game February 19.
Senior and four year center Mike Panico saw all the pieces of the team come together in the game against Leyden to earn the 20th win of the season. Although the Trojans were not able to get it done in regulation, they came out with a win in overtime.
"We all knew the circumstances of the game and how amazing it would be for our program along with the school if we won.  We started out pretty slow offensively, but when the second quarter started we started moving the ball really well and making sure everyone got a touch," Panico said. "Then at the end, our defense came alive, and we started forcing turnovers which ultimately won us the game."
Jim Thomas has been the head coach of Trojans basketball team for 12 seasons. Going into the 2018-2019 season, Thomas and his team focused on playing as the most tuned and trained version of themselves as possible for each game and practice.
From 13-13 last season to 20-11 this season, Thomas has been pushing his team in the right direction.
"We always talk about being the best version of ourselves. At times when we have been at that level, we are very difficult to beat. Sustaining that level is what separates the good teams from the great teams and the post season will be a measuring stick of whether or not we can get to the level we believe we need to play at to make a run in the postseason," Thomas said.
When playing up to their potential, the Trojans can celebrate more wins and get one game closer to playoffs. Senior and four-year center Noah May has experienced this growing comradery as the season progressed.
"This season we have come together a lot more this year than last year. We enjoy hanging with each other outside of just practice and basketball. Our unity is something that has definitely helped us on and off the court. We come to practice every single day expecting to get better and go hard every day. We grew so much since last year after being 13-13 and greatly changed how we approached the season this year to improve," May said.
Experience is something that the boys' use to their advantage. The combination of juniors and seniors make it easy for everyone to get along and become unified.
"This year's varsity basketball team is comprised of nine seniors, one junior that played up as a sophomore and two other juniors," Thomas said. "They are mature and have gained experiences in the previous seasons that allow them to navigate the difficult parts of a basketball season and push through adversity. They have put themselves in a great position by working together in the offseason on their skill sets and strengths and conditioning."
Whether it was the long summer days of conditioning or the countless meetings studying each team's playing style, the Trojans were tuned to be victorious. Thomas trained his team to bring a certain intensity to every game and practice, leading to their success.
"I think the intensity at what our players work at has separated them from teams in the past. Not that our teams in the past haven't worked hard, but we have endured a tough 31-game schedule, have stayed healthy and have been able to perform at a high level," Thomas said.
Throughout the season, the Trojans faced teams from all around the Chicagoland area that tested their perseverance and will to keep pushing for those 20 wins.
"It is a great accomplishment since it has not happened in such a long time," May said. "We came into the season with high expectations and knew that we could definitely finish with a 20 win season. It was also a great feeling to get that 20th win in the crossover game against the WSC gold conference."
On Saturday, Mar. 1, the Trojans beat DGS with a score of 65-42, winning the regional championship for the first time since 2002.The Trojans went on to beat Bartlett high school 46-44 on Wednesday, Mar. 6 and lost to the Geneva Vikings 75-70 on Friday, Mar. 9 in the sectional championship.