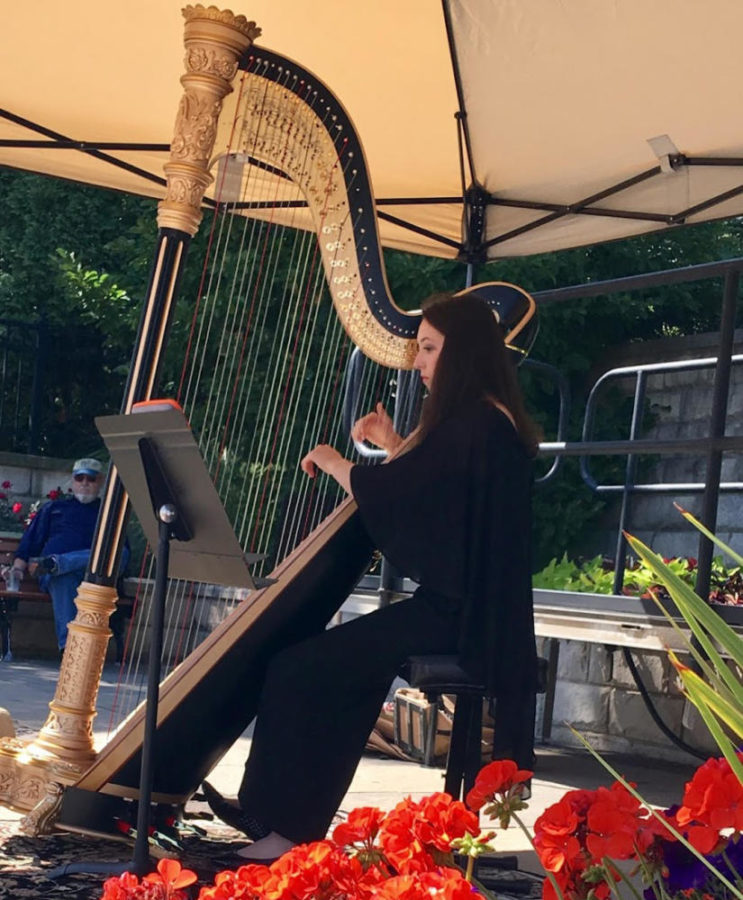 When sophomore Catherine Ramsey attended her first professional harp concert at the Lyon and Healy Harp Factory downtown Chicago, she was amazed at the incredible techniques Pat Stickney, one of her biggest inspirations, displayed on the harp.
Inspirations like Stickney motivates Ramsey to learn new techniques on the harp and push herself to broaden her repertoire. Since beginning private lessons in third grade, Ramsey has made strides competitively, improving and learning the techniques she once admired.
The week of Nov. 10, Ramsey will travel to Mexico City to compete amongst the top harpists in the world at The Mexico International Harp Competition and Festival. She is one of three U.S. competitors selected to compete.
Before The Mexico International Harp Competition and Festival, Ramsey only competed at smaller, more local competitions and venues. She used to bring her harp to Irish dance competitions where she would compete in both dance and music.
"I'm really excited to compete because this is my first time doing anything like this, and I'm excited to represent the United States," Ramsey said.
To be selected to compete in Mexico City, Ramsey had to submit an online application, including a video audition and letters of recommendation.
The competition is divided up into four divisions by age group. Ramsey is one of nine competitors in the Intermediate 1 division. Ramsey practices at least an hour a day in preparation for the competition. She is required to memorize five solos, each at least three minutes in length. Four of the songs are assigned by division and the fifth is a song of choice. Ramsey chose "Gitana" by A. Hasselmans as her song.
"It's a really nice technical piece that I feel really emcompasses a lot of the techniques you can play on the harp," Ramsey said.
The competition consists of two days. Two solos will be played on the first day and an international panel of judges made up of some of the top harpists in the world will determine if the competitor advances to the second day, where they will perform the final three solos.
"Catherine will have the opportunity to surround herself with some of the most talented harp players from around the world. Preparing for an event of this magnitude gives Catherine the opportunity to push herself artistically and will undoubtedly elevate her musicianship," Fine Arts department chair Brayer Teague said.
Traveling to Mexico City is for more than just a competition. Ramsey will get to meet other harpist like herself and hear guest artists perform.
"The community of harpists in a local area is small, so having them all come together, there's going to be a lot of sharing and camaraderie and friendships. There's that whole community of professional relationships that begins now," orchestra instructor Daniel O'Connell said.
In the future, Ramsey hopes to study and pursue a career in harp performance.
"I do hope to continue music in the future and maybe make it into a professional career. Careers in harp are far and few between, it's pretty difficult in the industry because normally when an orchestra or ensemble takes in a harpist, that's their harpist for life."
Although a career in harp may seem daunting, this does not stop Ramsey from working hard to achieve her goal. An international competition like The Mexico International Harp Competition and Festival will build her resume.