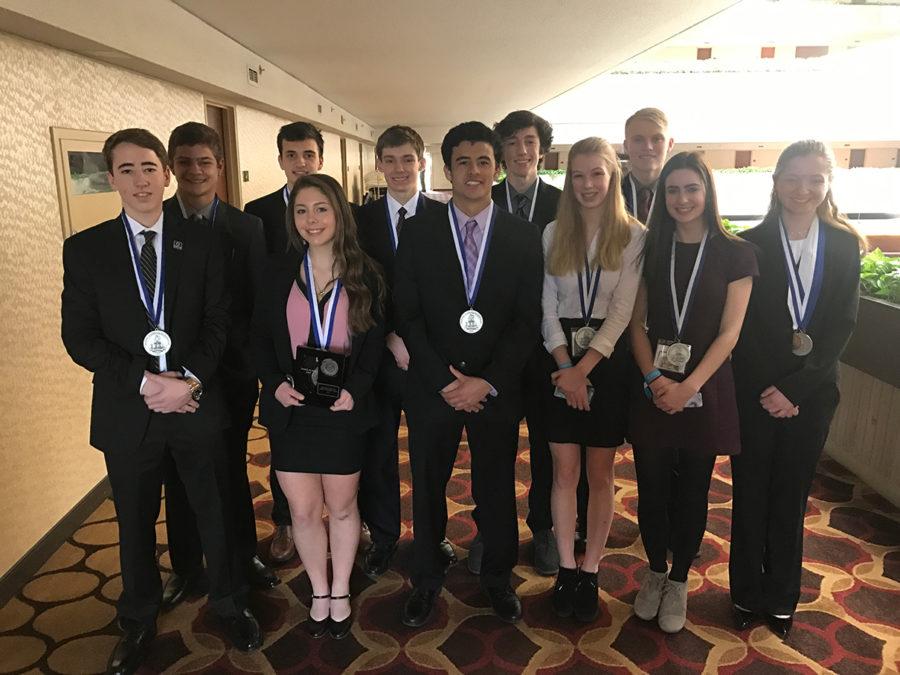 Mark Mirandola
DECA set a new record for number of state qualifiers at the sectional meet on Jan. 27. Out of the 86 students from DGN who competed at sectionals, a record-breaking 28 qualified for state on March 9-11.
"The success we had at sectionals was awesome. I was very impressed, but I can't say I was surprised. These kids work very hard and are very bright," DECA advisor Larry Baca said.
Club members prepared for competitions at DECA meetings. Students practiced scenarios similar to the ones they were presented with at competitions and took practice exams to familiarize themselves with what they see at a real meet.
At meets, each competitor is separated and placed into rooms. Once there, competitors take a cluster exam that is specific to each category and compete in the first role play. Depending on the category, competitors may compete in a second before taking an economic test.
Students often team up and compete in pairs. Freshmen Shannon Kelly and Charlotte Klasing compete as a team in the Travel and Tourism category of DECA. The two best friends advanced to state this year. DECA members can learn many different skills when participating and competing at events.
"Through DECA we have been exposed to the many problems that businesses face. Because we are only freshmen, we don't have much experience with working at a job, so it has really helped us learn a lot of important skills needed to work for a business," Kelly said.
State qualifier junior Olivia Wojciak competed in the Restaurant and Food Service competition at sectionals.
"Some skills and new things I learned from DECA is to be creative," Wojciak said. "If your solution is the most obvious, then the judges have probably heard of it through previous competitors. By being creative, your solution will stick out, making you stick out and to be remembered by your judge."
In addition to general business and economics, public speaking, networking, interviewing, organization, and problem-solving skills, students "also learn the importance of philanthropy and giving back to the community," Baca said.
At the state meet on Friday, March 10th, DECA had eleven students place in the top ten of their categories: Evan McDonnell (12), Jack McGuire (12), Julia McGuire (10), Parker Holyn (12), Matt Gilman (12), Nathan Zyck (11), Charlotte Klasing (9), Shannon Kelly (9), Jack Drobny (12), Ellis Johnson (12) and Kaitlyn Marra (12) placing 3rd in Restaurant and Food Service Management.
A total of nine students qualified for nationals and five will be attending the meet in Anaheim, California on April 26-29. These students include Shannon Kelly (9), Charlotte Klasing (9), Jack Drobny (12), Ellis Johnson (12) and Julia McGuire (10).
Baca hopes to continue to grow the club and provide a good experience for all the students involved.
"We are one of only a few clubs in the state with over 100 members, so we are already a premier program. We currently have 124 students in the club. It would be nice to have 150 in the club and to get another adviser involved so we can continue to evolve into the best in the state and do the things I know these kids are capable of doing," Baca said.