Gender-neutral spaces to be installed at D99 schools
Hang on for a minute...we're trying to find some more stories you might like.
Walking into the restroom, a student feels all eyes on her. Technically, this is the restroom she should go to;  it aligns with her biological sex. However, disapproving glares and whispers and could hound her in either bathroom.
In PE, another student dreads going to class every day. Not because of the class itself, but because of the fact that he must change around dozens of people. This leaves the student, who is insecure about his body, forced to feel vulnerable around his peers.
Earlier this month, District 99 announced they will create gender-neutral spaces at both DGN and DGS. These spaces will include a single-occupancy bathroom open to all students and staff and private changing areas in both the girls' and boys' PE locker rooms.
The DGS Blueprint and Omega received word of these changes earlier this month and were given more information from District 99 Communications Director Jill Browning.
The gender-neutral bathroom at DGN will be on the first floor across from the College and Career center. One of the three current faculty restrooms will have a different sign, allowing any faculty or student to use it. The original email to faculty stated that this minor renovation will be completed by the time classes resume after spring break and that the student body will also be notified once the bathroom is open for use.
Construction for the private PE changing areas will begin this upcoming spring, pending board approval. One of the sets of sinks in each of the locker rooms will be removed to accommodate private changing stalls for all student use.
According to Browning, these changes are part of the ongoing effort of the district "seeking to better accommodate the needs of all of our students".
Superintendent Mark McDonald sent an email notification to all DGN and DGS parents on March 8 addressing the upcoming facility changes. As for where the idea for the changes came from, Mcdonald acknowledged this in the email as well.
"The decision to establish these spaces came from our work with students, teachers, counselors and student support personnel; we did not receive requests to establish these spaces," McDonald said.
According to Prism sponsor Lois Graham, a group of officers met with administrators during first semester to discuss options, needs and possible locations for the gender-neutral bathrooms. Prism is the school's gay-straight alliance club that advocates for LGBT issues.
According to Prism officer sophomore Selma El-Badawi, administration already had begun to brainstorm ideas for the gender-neutral bathrooms when Prism addressed came to them with their ideas earlier this year.
"A lot of transgender students already use the bathroom in the nurse's' office, but ultimately there are a lot of people that are ill that use that one so it seems kind of degrading that the transgender and non-binary students have to use the same bathroom as everyone who is ill," El-Badawi said.
Senior Ari Scott has struggled in the past over which bathroom she should use, and sees the gender-neutral bathroom as a great step forward.
"I'm really glad the choice [to use the nurse's' office bathroom] is there because, for a lot of people, they just aren't comfortable with either bathroom because in one bathroom they may be harassed or in the other they just make people uncomfortable. For some people, there is no real safe option so that makes the [single-occupancy] one better," Scott said.
Despite language in earlier communications, according to the email sent out by McDonald the private PE changing areas are still waiting board approval and will be proposed at the public Board of Education meeting on April 11.
"The gender-neutral bathrooms and private changing areas will ultimately help everyone," El-Badawi said. "These changes are good for everybody and disagreeing with them because they are especially good for gender-nonconforming students is frankly ignorant and close minded."
About the Writer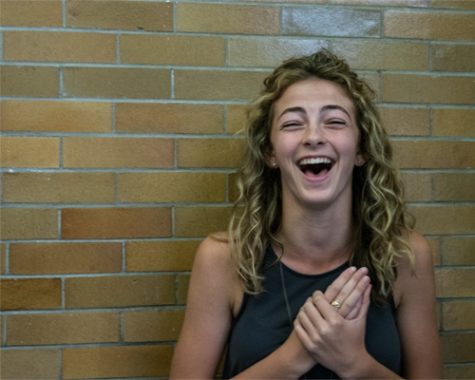 Abbe Murphy, Print Editor-in-Chief
This is Abbe's third year on staff. When Abbe isn't teaching someone how to use In Design or fixing picas, she can be found hurdling with the track...