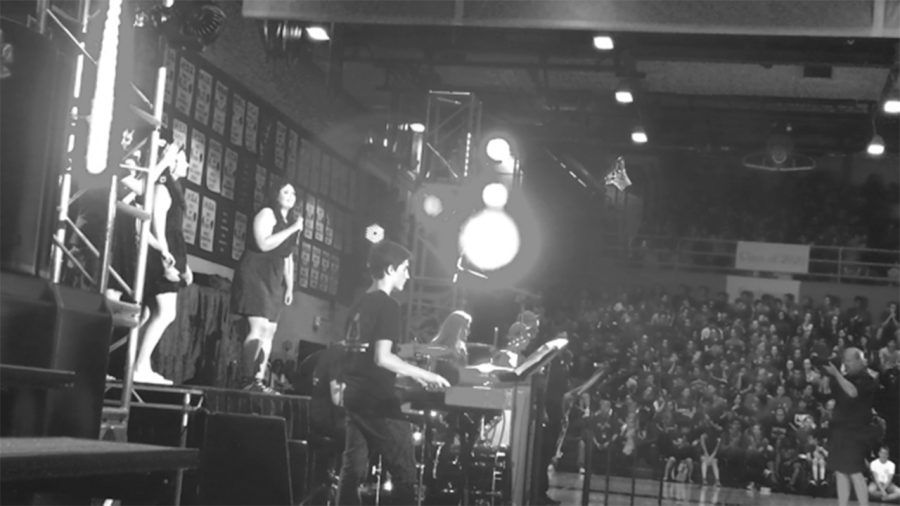 Brayer Teague
Many factors contribute to making homecoming a success. Maybe it is finding the perfect tie or dress, taking postable pictures, or the after parties, but one thing that is sure to make or break the night is the music.
Boom Entertainment has been the DJ at homecoming for 6 years now. ¨We first used Boom Entertainment for our winter dance in February of 2010," said associate principal Dr. Ken Sorensen. "We've been using Boom since then at homecoming, winter dance and prom."
This year, Boom was expanded into the homecoming assembly. The DJs from Boom coordinated with the in-house band, Athenas, and cheer team. They also added background music and sound effects to the pep rally. Since DGN hosts Boom in the cafeteria during lunch periods on the Thursday before homecoming, administration decided it would be easiest to have Boom set up in the purple gym early and also take part in the assembly.
The total amount for hiring entertainment, including the cafeteria, assembly, and dance was $16,000. The $16,000 package is one of Boom's more basic options said associate principal Kelly Zuerner. In order to keep the price of the tickets financially sound, the school avoids add-ons like a confetti cannon or catwalk which would be an additional $1,600 and $750 respectively.
For many years Boom seemed to be a good fit for the student body, but students have expressed their disappointment of the music at this year's homecoming dance. Junior Mikayla Clark said she usually likes Boom Entertainment, but this year she, "felt that they played different music; it wasn't as modern as other years. At South's homecoming they had music from right now."
Boom allows students to submit playlists or song requests on their online website prior to an event, however since homecoming was earlier than usual this year not that many people did. "For Winterfest [last year], a lot of submissions were done ahead of time," said Zuerner. Students had more forewarning and time to enter submissions because Winterfest took place in March.
"I think [the music] has a big impact [on one's homecoming experience] because you want to be able to dance with your friends to your favorite songs," said Clark. To submit requests for upcoming events, go to myboomtour.com and click on "song requests."
"Before Boom we would hire a local DJ company for all of our dances and we had used several different companies," Sorensen said. North has never used a student DJ, but Zuerner says she is open to the idea. "Boom does a great job of trying to foster talent with students," Zuerner adds. There are opportunities for students to become more involved in the music choice at school dances through Boom Entertainment. In the future, students can have a voice in music selection whether that be through online requests or possibly a student DJ.