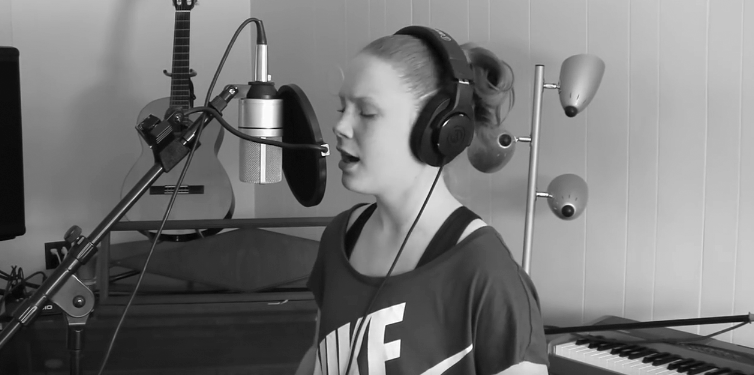 Sophomore Ellie Banke shut herself in her room for hours and emerged with a song that would soon have over 22,000 views on Facebook. After attending a funeral for the father of one of her family's close friends, Banke knew she wanted to do something for people like herself who have lost their fathers. That something was "Nothing."
"Nothing" is the title of Banke's original song that has spread across the community through social media. With thousands of views on Youtube, Instagram, and Facebook, Banke has been able to reach people she otherwise would have never met.
"It was overwhelming how kind people were," Banke said in reaction to all the comments and shares her video got on social media.
When Banke was only about two-years-old, her father passed away from Marfan Syndrome, a genetic disorder that affects connective tissue. Writing this song about losing a loved one has helped her cope with her loss, and she hopes it can help others too.
"[I was] motivated to help other people," Banke said. "[The song was] something to give other people the sense of hope that they're not alone in this."
"The main message [of the song] is that everything's going to be okay; you've got to grow a pair of wings again, you've got to learn to fly again," Banke said.
The song is actually a collaboration with her piano teacher, Derek Berg. She came to her piano lesson with a melody and lyrics, and the duo wrote the piano progression together. In the recording, Banke's incredible vocals are accompanied by Berg's masterful playing. But despite her insisting, Berg is reluctant to take any credit for Banke's song.
"I almost don't see it as a collaboration," Berg said. "Ellie is a master at coming up with a melody, and when she comes up with [one] it is so well-defined that the piano parts almost write themselves."
Banke says that Berg has helped her grow as an artist, musician, and person in general. Berg has known Banke her whole life. Growing up, music and Berg have always been there for Banke. Initially, it was Berg's idea to post a segment of the video to his Facebook.
"The motivation to get it out there was to get people to see the song and appreciate what Ellie did," Berg said.
From there, people started seeing and sharing the song. After only a day or two, the clip had reached about 2,000 views. As the days went by, the amount of likes, comments, and shares kept going up as more and more people saw the video. Eventually, Banke decided to post the full video on her YouTube account and the rest is history.
"It's cool that I've gotten to chat with people and relate to people about this," Banke said. "That's the overall goal, just to know that you're not alone."
Every day since those videos have been uploaded, Banke and thousands of other people have learned that they are not alone. Through the power of music (and the internet), "Nothing" has brought people together to heal and grow.