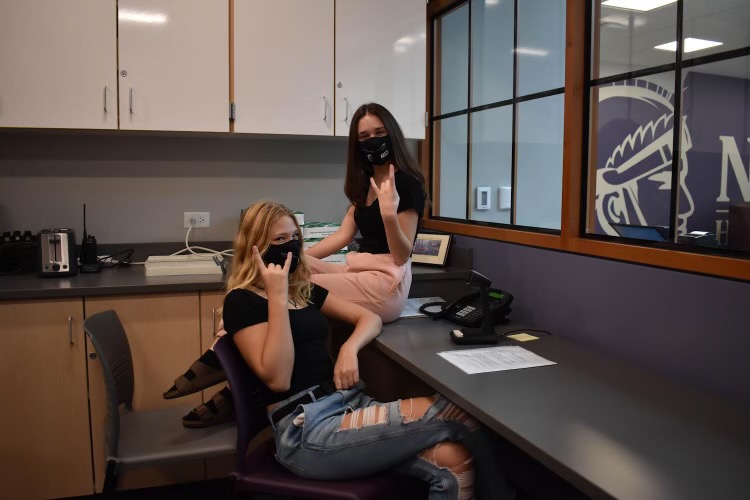 Kate Gross
It's 8:55 a.m. on a sleepy weekday morning. Second period classes throughout DGN rise to recite the Pledge of Allegiance, then promptly return to their seats and wait for the morning announcements to drone on over the PA system. Students scroll through their phones or talk to each other as they prepare to tune out the announcements. 
Suddenly, an air horn blares over the loudspeaker. Students' heads snap up in confusion as two cheerful voices say, "Good morning DGN, this is Kate Laffey and Kat Rutkowski with your morning announcements."
Each morning, seniors Laffey and Rutkowski have made it their mission to spice up the school day with gags and jokes during their daily recital of the announcements. In addition to the airhorn, their antics have included playing dramatic hype music for football game days, incorrectly introducing themselves as "Kat Laffey and Kate Rutkowski" and doing vocal warmups before reading the announcements.
Laffey and Rutkowski hope that their humor will infuse some enthusiasm and excitement into the mornings of students and staff.
"You're going to be listening regardless, [we] might as well make it somewhat interesting. Even if you don't necessarily find it hilarious, having that extra thing at 9 a.m., even if you're laughing at me, I'm glad you're laughing," Rutkowski said.
Their efforts have not gone unnoticed. Spanish teacher Paula Fernandez doesn't typically pay much attention to the announcements, but Laffey and Rutkowski's creativity has changed that.
"I have been here enough years to be able to tune out the announcements and I think only about what I'm doing at the moment or what I need to get done for second period, and they force me to listen," Fernandez said. "It truly does put a smile on everybody's faces behind our masks and that's a really great way to start our day."
Sophomore Fiona Doyle looks forward to the uniqueness of Laffey and Rutkowski's take on the announcements and how their personalities and sense of humor complement each other.
"I like that they are doing [the announcements] as a duo, they really build off of each other's energy and you can tell they are really enjoying themselves," Doyle said.
Student activities director Mark Mirandola calls Laffey and Rutkowski's shenanigans "a blast" and is thrilled their creativity has helped build on this year's overflow of school spirit. This year, the morning announcements are read from the student activities office located in the commons instead of the secluded front office as they were in past years, visibly putting Kate and Kat at the front and center of DGN's new additions.
"I just feel like there's a different attitude, a different vibe in the building both with having a bunch of new spaces and also with having students and staff back, and a lot of people wanting to be here," Mirandola said. "High school is a fun environment, let's have fun with this stuff and bring as many people in as possible rather than doing things behind closed doors."
Laffey and Rutkowski's impact goes beyond simply providing entertainment. They hope that their humor will encourage students to be confident and proud of who they are.
"[The announcements] might inspire [students] to be a little more unapologetically themselves because obviously, we're not being too shy when we're doing the announcements…and I think that when you're in the high school ecosystem it can be really hard to just let go a little bit," Rutkowski said. 
Laffey and Rutkowski's bold personalities and confidence have allowed them to become the people they looked up to as underclassmen, and they aim to provide this energy for younger students.
"I know that freshman me would never agree to this, I would think, 'oh no, people are gonna think I'm weird, people are going to think we're not funny,' but we don't care," Laffey said.
As for the future of the announcements, Mirandola has high hopes for the precedent that Laffey and Rutkowski have set.
"I think it's just scratching the surface for us to see what's next and to see how someone else can put their spin on it and continue to build on what we've created in the past with the big leap that Kate and Kat have helped us make this year," Mirandola said.