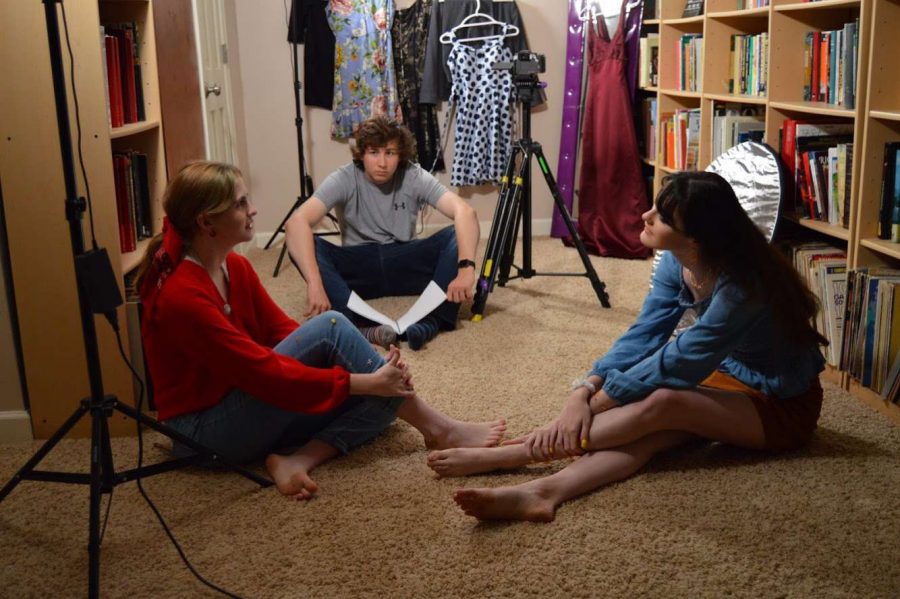 Nolen Stevens
Writing the script, memorizing lines, setting the stage, and editing a film are major jobs in producing a movie. Cast and crew consisting of 14 students mostly from DGN and a few from other schools took on these tasks to create a 69-minute film. They came together just for fun this summer to make their movie called "To Fall in Love and Break it Off."
The movie is about two high school teenagers and how they deal with their breakup. When the time comes for Nick Wabash (Patrick Jackson) and Sarah Lyman's (Marin Koch) relationship to end, they each cope with the loss in their own unique ways. As they begin to lose control of themselves, they start to rely more and more on the help of their friends.
Inspiration
The film's inspiration began when seniors Nolen Stevens and Edie Barlin met in film club together last year. At this time, Stevens was working on writing a script. He showed it to Barlin and from there they decided to collaborate together. 
The plot influence came from their own lives, and they tweaked it to fit their movie. 
"Nolen and I at the time just went through breakups and we both have this weird duo perspective, so [we wanted to] see if we [could] roll with that and do a split narrative story," Barlin said. 
This was Barlin's first film she made that was over ten minutes in length. She talks about her role in scheduling the scenes. 
"During pre-production, we wrote the script together, we went through a lot of logistical planning and we figured out where each scene was going to be shot, which equipment needed to be used, and what music we needed. Also [we] scheduled for when we were going to meet, and where and what time on set," Barlin said.
Stevens already had some experience with writing before, having written and directed his own TV show, "Frozen Pines." He and Barlin started writing the script in January 2020; when writing, Stevens explained that he had to be true to himself. 
"I took a film course at Columbia in the city two years ago and one of the biggest takeaways I had from that was the idea that to tell a compelling story, you need to be able to be vulnerable with yourself," Stevens said. "I took that lesson and I decided to use a journal I was keeping and start writing the script."
Casting
Stevens has a YouTube channel called Lightning Movies where he has made other productions. From that, he asked people who acted in his TV show, "Frozen Pines" to audition for the movie in April. 
Senior Lexi McMillin was one of the actors involved with Stevens' TV show and she talked about the auditioning process. 
"The casting situation was slightly different than normal because of [COVID-19]. Normally, we all meet at the library and Nolen would have us read lines from the script. This time, Nolen used Google Meet," McMillin said. "I wanted to be involved because acting is one of my interests for a career in the future."
On the other hand, junior Dan Sosnovsky was not involved in "Frozen Pines", instead he was hand picked by the directors to audition. He described his experience as a supporting actor in the film. 
"The directors asked me to act in the film, and so I tried out for a role and somehow got it. I play a side character named Dex. He's the lead guitarist for the band, and it was fun playing him for a little," Sosnovsky said. "I wouldn't say I'm an actor, I just like acting in front of friends really. This was more of a fun deal for me."
Acting
Shooting the movie took place all throughout summer, from June 2 to Aug. 12 mostly in Downers Grove. Stevens edited the movie for five months until he thought it was perfect in his eyes. 
The lead actor, senior Patrick Jackson, was happy to be a part of the movie and explains his inspiration to be a part of it.
"I never get to do camera acting during the school year. But more than just wanting some camera acting experience, I really loved the group, they were all amazing to work with, and all my times in 'Frozen Pines' made me want to also work on this next project," Jackson said.
Acting is one of Jackson's passions that he wants to pursue in the future. He reflects on his career over the last years as well as his future. 
"I am strongly considering committing to U of I's theatre program for next year. In my last few years at DGN, my experience has grown into something I never thought it could: my lifelong passion," Jackson said. "My overall experience with acting has been phenomenal, and so much so that I will be continuing to do it through college. I'll see you in the movies, fingers crossed."
The other lead actress, junior Marin Koch, had no experience in front of the camera before "To Fall In Love and Break it Off." She described the way she got prepared before they shot scenes. 
"For bigger scenes, I would put all my lines into a Quizlet to memorize them, but for small ones I'd just cram them right before we started filming," Koch said. "I usually spent the mornings trying to get into character, if we were filming more of a heavy scene I'd try to keep myself from getting too happy or excited about anything until we got our shot."
Koch's favorite part was when she performed a scene perfectly on the first take.
"I loved the moments when we would get our take just right. Everyone would get to relax for a second and be proud of themselves for their good work," Koch said.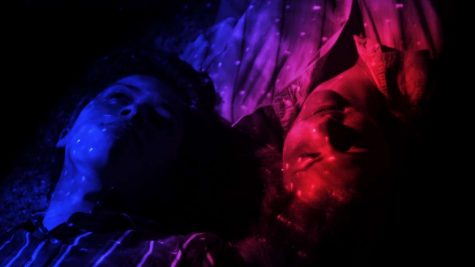 Viewing 
Released on Valentine's Day, the movie has over 600 views on YouTube so far. 
Junior Charlotte Hansen has watched it three times already: by herself, with her sister, and with her friend.
"I watched it because I saw something on Instagram that it was released and I was looking for something new to watch," Hansen said. "I loved how you could tell how much work and time was put into the film. You can tell all of the actors and producers were passionate about it and had a good time while making it."
Along with Hansen, junior Emily Adamo watched the movie several days after it was released. 
"I liked hearing all of the original music they put together and seeing how they set up the school dance scene was impressive," Adamo said. 
Overall, Stevens is very happy with how the film came out and he talks about his biggest takeaway from the movie. 
"It's like a little time capsule of what it's like to be in high school. I mean, I've literally quoted the movie when people ask me for advice on things sometimes, and I think the message of this film is something a lot of high school students need to hear," Stevens said.